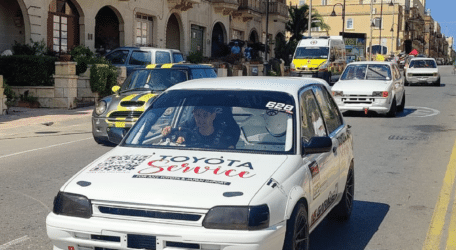 Toyota Malta is proudly sponsoring the local rising star Gabriel Sammut. An ambassador for Toyota in the local racing scene, Sammut has turned a 90's Toyota Starlet into an expertly modified winning race car.
Bringing together his passion for cars, technical expertise and genuine excitement for the Toyota brand, Sammut has over the years participated in several races, where he frequently wins and succeeds in various categories including the fastest front-wheel drive, overall class wins, and top-ten places overall. Besides his passion for motorsports, Gabriel truly exemplifies the spirit of innovation and performance which are synonymous with both Toyota and Debono Group.
Commenting on the sponsorship, Marketing Manager James Gatt said: "Toyota Malta is very enthusiastic about supporting Gabriel Sammut, and we look forward to further support local talent, to empower people like Gabriel to develop their skills, foster innovation, and drive positive change within the industry and society at large. The local community of Toyota lovers in Malta is constantly growing, and as local representatives of the Toyota brand, we want to nourish this community as much as possible."
Debono Group's founder Michael Debono imported and retailed the first Toyota motorcar to ever be sold in Europe in 1960. Over the years, the Group went on to make Toyota the number one motorcar brand in Malta. Toyota was reconfirmed as Malta's best-selling automotive brand for 2022 for the fifth consecutive year.