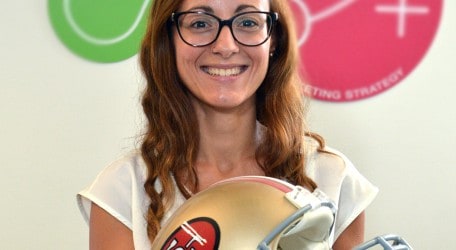 The Concept Stadium team can now consider itself a double digit team, as Josita Dalli, a new Marketing & PR Account Manager joins the ten-player squad.
Besides heading the PR service area, Josita will also be taking care of client brand reputation, idea generation, marketing campaigns, whilst being part of the overall creative think-tank.
Josita comes from an impressive 8-year tenure in PR, at a leading agency in Malta, and managing some of the most renowned brands internationally. Moreover, she recently graduated in Sales & Marketing from the University of Malta. A perfect match for the Concept Stadium!
As her fellow colleagues can vouch for, she is a great baker and wears a smile most of the time. She also rides a bike to the office everyday.
In a brief comment, she said: (we swear we didn't bribe her!) "I am very excited to join the Concept Stadium. I believe that the company's commitment to customer service has been the key to its growth and success over these past years. It is pleasing to see that the Concept Stadium takes this commitment to heart and has emerged as a boutique marketing partner to its clients, with a strong track record in creating and executing innovative and contemporary campaigns. I look forward to working with the team to maintain this attitude and to improve on it by working on new initiatives and services that are truly responsive to the needs of our clients".
Welcoming Josita to the team, Jonathan Dalli, Founder & Managing Director, commented: "It's great to have Josita on board! Since the firm's inception, Jonathan Chetcuti and myself, have worked very hard to create a company culture of Creative Commercials, and Josita's engagement is testimony to this belief. Furthermore, Josita's engagement will help us to remain boutique in terms of client interface whilst ensuring that we're constantly meeting deadline and proposing innovative go-to-market brand initiatives".
For more information, please visit http://conceptstadium.com/about/team/josita-dalli