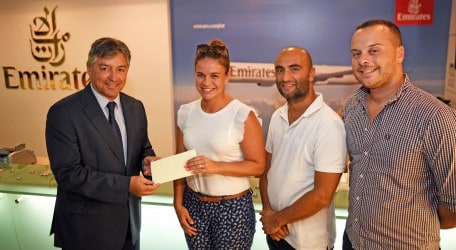 Mrs Alexandra Vella from Mellieha is the lucky winner of the 'Hello Emirates' competition which ran on the breakfast show "DANUSAN qumu" presented by the popular duo Daniel Chircop and Sander Agius on Radju Malta.
Mrs Vella won two Emirates Economy Class airfares to Cyprus and a 5-night accommodation including breakfast at the 5-star Almyra Beach Resort in Paphos, with compliments of Thanos Hotels and kindly arranged through Cyprus Tourism Organisation. She was one of six finalists who answered correctly the questions on Emirates destinations during a final live quiz. The other five finalists received an Emirates Travel bag.
Almyra Beach Resort is a contemporary luxury seaside hotel set in tropical gardens and overlooking the Mediterranean Sea. It is situated within walking distance of most shops and restaurants and a few minutes away from Paphos Harbour. Almyra's diverse leisure activities offer couples and families the perfect spot to unwind.
With Emirates daily scheduled flights to Larnaca, Cyprus is becoming increasingly attractive for travellers from Malta looking for a relaxing holiday. The flight duration is just over two hours.
Emirates provides its customers with a wide range of choices across its global network of more than 150 destinations in 84 countries together with exceptional on-board offerings and services. Passengers who travel on Emirates' Boeing 777 aircraft will be able to enjoy the airline's award-winning ice system with up to 2,500 channels of the latest movies, TV shows and music, and gourmet cuisine served by Emirates' multi-lingual cabin crew.  Passengers also enjoy generous baggage allowance of up to 35kg in Economy Class.