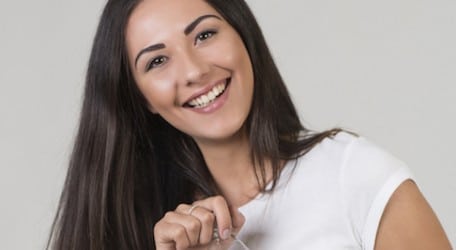 Nicole Ebejer has been named this year's Face of Diet Kinnie and will be fronting the 2016 marketing campaign for the brand. Nicole has also won a one-year modelling contract with Supernova Models – Malta's leading model agency. She has also walked the catwalk during last November's Pink fashion show and participated in a dream fashion shoot in London as part of her prize, as well as appearing in the editorial of December's edition of Pink magazine.
Nicole was the final winner in a competition to find the Face of Diet Kinnie that saw over 200 entrants. The competition involved several challenges for the participants, including photoshoots and styling, as well as attending modelling lessons, all under the careful guidance and mentorship of Marisa Grima, well-known in Malta's modelling and fashion scene.
"Participants are handpicked for this competition simply because the judging panel would have seen something special in them. Hundreds of hopefuls applied, but only a few made it to the final stages of the competition. Nicole embodies everything the organizers were looking for as the Face of Diet Kinnie, plus she has tons of personality to complement her good looks," commented Marisa Grima.
Nicole added, "I am very happy, excited and proud to be the Face of Diet Kinnie 2016. I can't wait to start working on the campaign. It has been a very good start so far. A year ago starting modelling was just a thought and looking back I realise that in one year I have already achieved a lot. Being the Face of Diet Kinnie 2016 and working with such an iconic brand will give me the boost to continue with my modeling career."
Ms Lara Filletti, Brand Executive for Kinnie at Simonds Farsons Cisk plc, said that Nicole was the perfect person to represent the brand for the coming year, embodying the traits of the brand perfectly. "We are very happy with the winner and we look forward to working together on yet another successful campaign for Diet Kinnie."
Kinnie, Diet Kinnie, Kinnie Zest and Kinnie Vita are produced, marketed and distributed by Simonds Farsons Cisk plc. For more information visit www.kinnie.com or www.facebook.com/kinnie.mt.