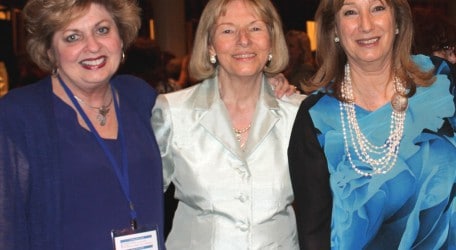 Pictured above: Judy Zelden, Kathy MacInnis and Mariz Cassar
A delegation of three members of the Magnificat Malta Chapter recently attended the 13th International Leaders' Conference, held in Washington DC, USA. The delegation was composed of Mariz Cassar, Marly Cassar and Lucia Pace. The conference had the theme 'Proclamation of the Kingdom,' which was inspired by the third luminous mystery.
The conference was held over four days and had, among the 400 members present, past guest speakers of the Malta Chapter, Kathleen Beckman, Sr Briege McKenna, OSC,  and Maria Vadia.
Commenting on her experience at the conference, Ms Cassar said much was accomplished in making contacts for future speakers visiting Malta. "It was such a witness of the love of God, when women come together in love, peace and joy, which is what we experienced at this event," she said.
The conference started with a Mass celebrated by Fr Kevin Scallon, CM, at St Agnes Catholic Church in Arlington, VA. The first general session, chaired by the incoming Leader of Magnificat's American chapter, Kathy MacInnis, had the theme 'The Impact of Magnificat on Women and the Impact of Magnificat Women on the World.' Personal testimonies were given by Kathleen Beckman, Dorinda Bordlee and Maria Vadia.
The second general session was a Ministry of Praise and Worship around the World. Chapters from the Caribbean, the Hispanic group and Poland entertained the delegates with their joyful traditional music of praise. Workshops were provided on A Ministry of Team Work, Prayer and Music Ministries, Spiritual Advisors and Evangelising through Financial Strength.
The highlight of the conference was the Ministry of Fellowship, Magnificat's Dinner with personal testimonies from Gloria Gomez and Claudia Castorena, who showed us how the Lord worked in their lives. Gloria, coming from a broken family, travelling back and forth from America to Mexico, which brought her insecurity and homelessness, opened a very successful Home for the Homeless in Mexico, with the empowerment of the Holy Spirit.
There was a pre-conference tour of the city and another highlight was a visit to the Blessed Pope John Paul II Shrine of the Divine Mercy, where his blood relic was exposed as a special privilege.
The five objectives of Magnificat are to: Live out the mystery of Mary's Visit to Elizabeth, therefore to proclaim God as our Saviour and to be in humble service to Him; Help Catholic women: a) Open more to the Holy Spirit, b) Commit to Jesus as Lord, and c) Love, serve and share the Good News of Salvation; Provide opportunities, which foster growth in holiness; Sponsor Magnificat Meals, an essential function of Magnificat; and Imitate Mary through spiritual adoption of priests/seminarians.
Magnificat was set up on October 7, 1981, and the Malta Chapter has been active ever since. The members include Myriam England (European representative), Mariz Cassar (Malta's Co-ordinator), Helen Tabone, Denise Camilleri, Angela Galea Salomone, Bridget Tabone, Marly Cassar, Rita Petrocochino and Anette Cassar with Fr Hayden Williams, OFM Cap., as Spiritual Director.
Forthcoming foreign guest speakers will be Claudia Koll, Sr Briege McKenna, OSC and Fr Kevin Scallon, CM. To keep informed of events see their Facebook page and/or contact them on 79442468/21442468.