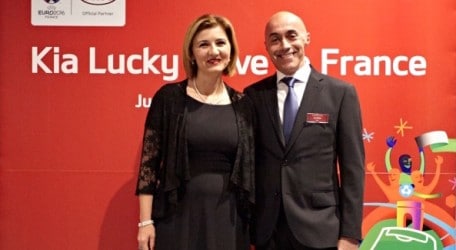 When Ivan and his wife Moira Mallia received a letter following their purchase of a Kia Sportage from Cars International, representatives of Kia in Malta, stating that they were in for the chance of receiving the royal treatment from Kia to attend the opening of the Euro 2016, their reaction was one of gratitude and excitement at the same time.
Every Kia Sportage owner and clients who booked a test-drive were all eligible to be part of the draw for this once in a lifetime opportunity. Out of hundreds of participants, the Mallias were the lucky winners randomly drawn for a luxurious all-inclusive trip to Paris which included tickets to the championship opening match France vs Romania at Parc des Princes, Paris.
Kia Motors has been supporting the UEFA Euro for the past 10 years, always striving to create a closer tie between Kia and sports. The 'Kia Lucky Drive to France' was a campaign organized by Kia Motors in view of the Euro 2016 games.
"We only realised what we were in for the moment we arrived in Paris," said Mr Mallia. "Upon our arrival in Paris, we were escorted to Le Meridien Etoile Hotel by Kia representatives in an all new Sportage. From then on, it was a two-day long experience of exclusive treatment which we will never forget!"
During their stay, the Maltese couple joined a group of winners from 48 countries, who together had guided tours to Paris' famous landmarks, including the Tour Eiffel, the Versailles palace and gardens and a welcome gala dinner where the couple was seated next to the President of the Kia European branch, with whom they spent the evening discussing heritage, culture and other topics of mutual interest.
The couple described the evening as an experience out of a fairytale book, where the food exceeded expectations, the service was impeccable and attention was given to every detail.
"Literally, the cherry on the cake was a treat for my wife who coincidentally happened to be celebrating her birthday on the day. After dinner, we heard the 'happy birthday' song and an impressive cake coming our way. Having taken care of our flights and accommodation, the Kia Team realized that my wife's birthday was on the same night of the gala dinner and they went yet another extra mile to make her feel special!"
"Having driven Kia models at work, I wanted to invest in a Sportage myself," says Mr Mallia. "The cars' performance, comfort, reliability and safety make them a pleasure to drive and hassle-free to maintain. We enjoy the value of our money every day and hands on heart I recommend Kia to anyone who is passionate about driving not any car. Now that we have also this nostalgic Kia experience in Paris, we will surely remain loyal to the brand forever. For us, nothing beats Kia!"
Visit Cars International in Mdina Road, Qormi to book your test-drive of your favourite Kia model, or send an email to kiasales@cil.com.mt, call on 2269 2120, visit the website www.kia.com/mt or Facebook page Kia Motors Malta.