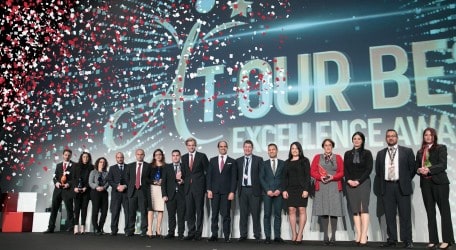 During HSBC Malta's annual townhall, held at the MFCC in Ta' Qali, seven individuals and one team received At Our Best Employee Excellence Awards for a range of outstanding achievements.
The At Our Best Employee Excellence Awards are a major employee engagement programme within the bank and celebrate excellence achieved by an individual employee or a team. This year's annual townhall was held in the backdrop of HSBC Malta winning the prestigious "Bank of the Year 2016' Award in December.
The winners of the seven individual categories were: James Buttigieg and Bernard Grima for the Best Growth Initiative Award, Aaron Zammit for the Cost Conscious Award, Susanne Gambin for the Corporate Sustainability Award, Mariella Fitzgerald for the Financial Crime Risk Award, Jonathan Polidano for the Outstanding New Recruit Award, Rita Scicluna for the Conduct and Values Award, and Nadia Micallef for the Customer Excellence Award.
The team award was won by the Financial Crime Compliance Anti Money Laundering investigations unit.
The awards were presented by HSBC Malta CEO Andrew Beane and HSBC Europe CEO Antonio Simoes, who was the special guest and speaker this year.
HSBC Malta CEO Andrew Beane said: "The At Our Best Employees Excellence Awards recognise the truly outstanding achievements of our winners. They are also a testament that hard work is valued at HSBC Malta."
HSBC Malta is one of the largest private-sector employers in Malta, and is committed to being a great place to work.