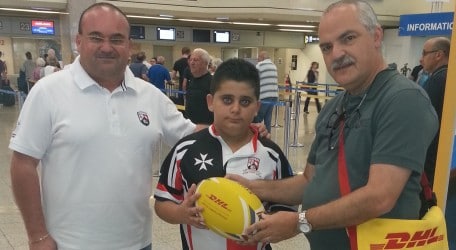 DHL presents flight ticket to young Maltese rugby player
DHL Express Country Manager, Malta, Charles Schiavone on Monday presented the flight tickets to Joseph Spiteri, who has been selected to represent Malta at the Rugby World Cup in England later this month.
Joseph, 11, who plays with Valletta Lions Rugby Football Club, will be presenting the match ball to the referee at the Scotland versus United States game, taking place on Sunday, 27 September, 2015, at 2.30 p.m. at the Elland Road ground in Leeds.
Joseph will be accompanied by his father Ronnie on the all-expenses paid trip, courtesy of DHL, and by Joseph Borda, Vice-President of the Malta Rugby Football Union and Chairman of the MRFU Youth Committee.
Young Joseph, who has been playing rugby for a year, is looking forward to the trip and has meanwhile been keenly attending training sessions even during the summer.
Mr Schiavone wished the Malta delegation a successful trip: "Joseph and his father Ronnie have been given return flights and transfers to Leeds, leaving on 26 September and returning on 28 September, two tickets to the match and two nights' accommodation at the Marriott Leeds Hotel. Joseph will also receive an official DHL RWC merchandise kit, including uniform and rugby ball, plus a thank-you gift of a match ball delivery photo as a memento."
Mr Borda said that the MRFU intends to set up a Rugby World Cup Village at their premises in the Marsa Sports Complex on 31 October, 2015, and to show the final live on a big screen at their Club House. There will be lots of food and drinks, with free entrance.
"This is going to be a once-in-a lifetime experience for young Joseph and the MRFU is extremely grateful to DHL for having made this dream opportunity possible," Mr Borda said.
Malta is among the top 43 leading rugby-playing nations in the world to be invited to send a child to deliver the official match ball on the field of play during the Rugby World Cup 2015.