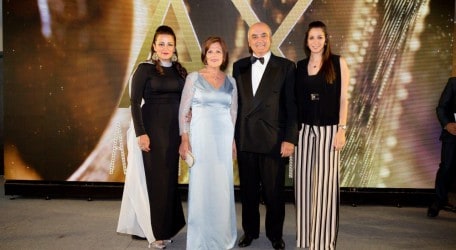 The management and staff of AX Holdings recently celebrated the achievements and service of numerous staff members at the annual AX Awards night. The event was held at the new hall at Luzzu Complex in Qawra, one of the latest added venues to the AX Hotels portfolio. During this memorable night, 50 employees working in construction, hospitality, development, and the healthcare industry within the company, were awarded by the management team for their efficiency and competence in their job.
Those present for this special evening enjoyed a festive atmosphere, accompanied by live entertainment from the popular local band, The Crowns and delicious dishes prepared by the talented chefs from the Seashells Resort at Suncrest and Luzzu Restaurant. The Chairman of AX Holdings, Mr Angelo Xuereb awarded the 'Long Service Awards' to all the employees who have been working for five to twenty-five years in the company. This was a sign of appreciation and that their work is being valued by the top management.
For the second consecutive year, Mr Xuereb presented 'The Chairman's Award' to employees who through their work have been an exemplary employee for their colleagues and other teams. Speaking at the presentation of this award, Mr Xuereb highlighted the fact that "this award credits the individual and collective achievements of our employees who have personified our core values of service excellence and innovation. It is through the efforts, assurance, and the willpower of our employees that the Group continues to attain the requested achievements. No doubt it gives me immense pleasure to celebrate the outstanding accomplishments of this year's winners."
Other outstanding achievements were presented during this special night. These included the TripAdvisor and MTA Awards. The TripAdvisor Awards are for employees who had had their names praised and mentioned the most, in reviews on the web site. Mr Emilio Santos from TripAdvisor presented this award. Mr David Mifsud presented the MTA Awards, who honors employees who excel and go the extra mile within the tourism industry. AX Holdings Group Construction Director, Ms. Denise Xuereb, the Group Hospitality Director Ms. Claire Zammit Xuereb and the company's Chief Executive Officer, Mr. Michael Warrington presented other awards during this special night.
During this event, Mrs Josephine Xuereb, wife of the chairman, was presented with a donation of €2050, which was collected from all the employees of AX Group towards the AX Foundation. This organisation, which is led by Mrs Xuereb herself, helps numerous persons, including employees, who unfortunately are going through a problematic and difficult situation in their life and would require financial aid.