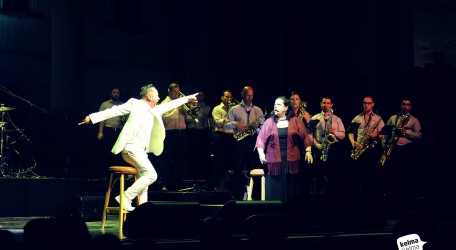 In a week when we have heard nothing but bad news, from horrifying terrorist attacks to one political scandal after another, it was good to get away from it all and escape to a show which fused intelligent comedy with music and razor sharp social commentary.
Thanks to actor/comedian Ray Calleja, together with Dr Michael Spagnol the brains behind the popular Facebook page Kelma Kelma, the talented Big Band Brothers, and lead singer Daniel Cauchi, they came up with the idea of  Kelma Kelma Nota Nota.  This unique show (part of the Malta International Arts Festival) was first presented last year but unfortunately I missed it, so I was glad to be able to attend this year's edition. And I'm so glad that I did.
For this year, the theme chosen was Kuncert tal-Qaddisin – an immediate play on words which gives you an inkling of what is to come. When, in Maltese we say something is "tal-qaddisin" we mean that it's going to be something big and spectacular. The title is also literal, as the show was all about how much our daily lives and culture are infused with the topic of saints.  From our street names, to names of schools (even those which are independent and not run by the Church) to the very names most of us had bestowed on us in the good old days when you were only allowed to name your kids after saints.  ["My" saints were obviously Joseph and Anna.] Of course, today's improbable tongue-twisting names were also included in the show, as Ray dryly wondered how on earth one would go about praying to Santa Sherizyenne. It doesn't have quite the same ring to it as Santa Rita huh?
We were given a rundown of the legends about various saints, some based on folklore and some, I suspect, the fruit of someone's wicked imagination, such as when pregnant women in labour supposedly used to pray to San Blas to erm, let's say, ease the passage of the baby.  The actual Maltese expression is much cruder but almost killed us all with laughter.
The fast-paced witty script was so precise and accurate that it left you breathless trying to keep up with Ray's tour de force performance as he ran through all the connotations, including one rendition where he recited at breakneck speed all the names of saints he could come up. I think we were all holding our breath until he got through the list, interspersed with his dramatic gasps for breath.
The intricacies of the Maltese language were put to excellent use, embracing its richness and the fact that so often we are able to use it to such great effect to make a salient point in what I can only describe as our very own type of ironic, self-deprecating Maltese sense of humour.
Nothing escaped the writers' spot on attention to the little details which make up the fabric of this funny old island which had us in the audience not only roaring with laughter but nodding in complete agreement.  I have always believed that when done properly, with respect for the audience's intelligence, it is possible to come up with humorous shows in Maltese which do not rely on toilet humour or slapstick. This is not to say that an element of physical comedy was not required, because Ray was a whirlwind, practically leaping across the stage, and contorting his expressive face in all sorts of ways as he impersonated typical Maltese characters using his arsenal of different voices and accents.  This was the Ray from his old Bomba days when he used to breathe life into a whole array of easily recognizable stereotypes.
We just LOVE our saints, Ray pointed out, especially since each of our many official  public holidays are thanks to a saint, and always means a day off and when it falls on a Friday or Monday, woohoo! Forget religious observance, that's shorthand for a "long weekend in Gozo".
The material for the show also relied on poems on the show's theme by poets such as Trevor Zahra, which were brought inimitably to life.
The band was superb, as was singer Daniel Cauchi (a great performer and showman in his own right) giving us performances of old Maltese favorites. I loved the way the band were incorporated into the act as well, including a point where they sang along. And of course, then came Mary Rose Mallia with her unforgettable classic Il-Festa which was a hit with the audience, both young and old.
The musical numbers also included songs which will never grow old such as Enzo Gusman's Fil-Pjazza tar-Rahal, a fitting tribute to the time when Maltese language songs truly reflected the authentic Maltese identity rather than the pale imitations of bland pop songs with meaningless lyrics we sometimes hear now.
Kelma Kelma Nota Nota, in short, reminded us that we need to embrace what is ours, what is genuine and what is unique about Maltese culture and society – even those aspects which make us roll our eyes with fond exasperation. It was a show which did not try to copy anything else, but was a wonderful creative effort which took all the best elements of our language, traditions and original music and turned them into an unforgettable evening of pure entertainment.
And the good news is, there's more to come. The same team will be bringing us Koffee Morning on 28, 29 and 30 July, which is I am told, on the topic of women.
I can't wait.