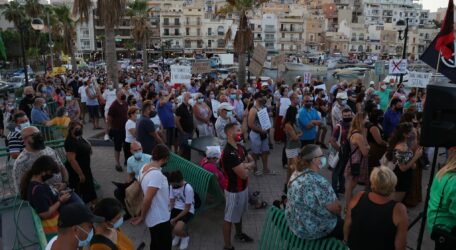 This column first appeared in Malta Today
Above: Friday's protest, photo credit to Moviment Graffiti
It's not easy to talk about boats without sounding like one is suffering from a whole bunch of sour grapes. But I can assure you, this has nothing to do with boat envy. Apart from a propensity to get seasick (not ideal for owning a boat), when I hear people talk about what it takes to run and maintain a boat it just sounds like too much of a hassle for me.
Of course, there are those who can afford the expense of not only buying a boat, but also the costs involved in running it, yearly maintenance and berthing so, as the saying goes, 'good luck to them.' Although it must be said that, from a cursory look at the expensive sea vessels bobbing up and down in our bays and marinas, it appears that there are quite a few people who can afford this luxury, making me wonder where all that money is coming from. This is similar, in fact, to the question marks which appear like a cartoon bubble over my head when I see a mere 20-something behind the wheel of a very expensive vehicle. But that's a job for Superman or…at the very least, the Inland Revenue Department.
On hearing Minister Ian Borg put his foot in his mouth over the proposed Marsascala Marina, I was not the only one scratching my head at how he can say certain things with a straight face in the name of an erstwhile 'Labour' Government. "A large number of Maltese are buying pleasure boats" he informed journalists with a tinge of smugness in his voice and, apparently, the existing marinas are not coping with all this floating wealth. Ergo, his implied reasoning was, these boat owners need somewhere to park their sea vessel, and pesky Marsascala residents should not behave so unreasonably by objecting to a new marina, but they should just roll over, nod diligently, relinquish their bay and basically shut up.
They are not about to do so of course, as the demonstration on Friday afternoon amply showed. There is a strong sense of community in this traditional fishing village and the residents made their voice heard loud and clear. Because while it is obvious that people can do what they like with their money, including buying a boat, it should be equally obvious that this right should not extend to taking over a public bay, facilitated by a Government which goes weak at the knees when someone flashes a wad of cash. It will all fall into place when the identity/identities of this 'someone' behind the proposed marina comes to light.
In case you were wondering, this is a list of all the bays and marinas where people can moor their boats (obtained from a boat insurance website):
Msida Yacht Marina
Manoel Island Marina
Msida Creek
Lazzaretto Creek
Sliema Creek
Portomaso Marina
Kalkara Creek
Kottonera Marina
Pretty Bay; St. George's Bay; Wied il-Buni – Birzebbuga
Bugibba
Marsaxlokk Bay
Mgarr Harbour – Gozo
Xemxija (behind Ghajn Razul breakwater)
Sandy Yacht Marina – Ta' Xbiex
Laguna Marina – Valletta Waterfront
That's pretty much all around the periphery of our shoreline. Minister Borg assured us that, "according to the 2006 local plans" the only remaining bays where marinas can be built are Xemxija and Marsascala. I never imagined that a Labour Minister would be so quick to quote (and embrace) something that was decided by a Nationalist administration. It's amazing how the usual practice of rubbishing everything pre-2013 is dispensed with when it comes to pandering to those with money while ruining yet another piece of our natural environment.
And despite Minister Borg's attempts to tug at our heartstrings with his reference to Maltese families (jaħasra…Where do you want them to put their boats?), it is clear that the plan is for this large marina to cater for the yachts owned by the super rich who use the Mediterranean as their playground. According to the plans, popular swimming zones will be replaced with pontoons while some 16,000 square metres of land will be reclaimed. The marina proposal is for a minimum of 700 berths in a bay where there are currently 500 moored boats. If it goes ahead, this new marina will change the very spirit and fabric of the place known as Wied il-Ghajn.
And even if we are talking about more affordable, modest-sized boats, the fact remains that not only are boat owners being given privileges to berth in optimum spots in our most beautiful bays at the expense of those who cannot afford a boat, but the former can then go out to enjoy the open sea away from the crowds, whereas the ordinary person has to squeeze into the constantly diminishing public beaches. Even the sea is limited to specific zones because of the plethora of beach clubs which have taken over public land and lidos which offer jet skis and other water activities.
For those who simply want to enjoy the seaside in their own country, going for a swim armed with just a towel like we used to back in the day is in danger of becoming a rarity. Just look at Comino which, despite assurances that this would not happen again, has umbrellas and sun beds spread along the beach, forcing those who don't want to pay to find an empty spot on uncomfortable rocks. At this rate, someone will get the bright idea of charging admission to access any beach, any where, with the blessing of an administration which is supposed to represent its working class base but which has long ago sold its soul to greedy capitalism.
As with most of the major projects launched by this Neo liberal Labour Government, the mentality behind plans for this marina makes this party unrecognisable from the PL which historically has always defended the workers and those on a lower income. It has succeeded in tapping into the materialistic, aspirational wishes of the "me" generation which always wants more, and which preferably wants it all NOW, and is not willing to wait, even if it means taking out yet another loan – a far cry from their parents and grandparents who saved money for a rainy day and only bought something when they could afford it.
Now that we have bowed in submission to the King of the Road, the car, by sacrificing land in order to build wider roads, we are now going to bow in submission to the King of the Seas: the boat. There are no incentives for people to stop buying cars and there are no incentives, it seems, for people to stop buying more boats. Instead, both are being actively encouraged. This is similar to the example of University where, instead of discouraging private car use by providing alternative measures of transport such as shuttle buses, the campus just kept expanding its car parks, which inevitably resulted in more and more students buying a car.
As we look around us, it is as if there is some master plan to deliberately suffocate this island with things we already have too much of. This week, a NINTH supermarket from the Lidl chain has been given Planning Authority approval, this time in Zebbug. You know, because there aren't enough supermarkets on every corner already (although where this new one is going to get enough staff is beyond me). We will soon become a country in which people never leave their car except to waddle through the supermarket aisles to stock up on more groceries or else to drive to shopping malls to buy more clothes they don't need.
Meanwhile, the pathetic attempts to create 'green" open spaces always end up being just that, pathetic, and the cynical PR stunts claiming to plant more trees are daily being exposed for what they are as we witness the brown, shrivelled trees dying all around us.
In fact, come to think of it, no wonder so many people are buying boats – getting away from it all into the open sea is probably the only way they can find Malta bearable any more.