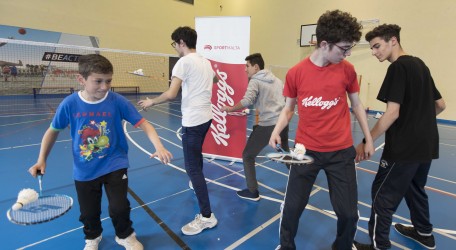 Badminton is the second most played sport in the world after football. East Asian countries dominate the badminton world with China being the incontestable leader , followed by Indonesia, South Korea, Malaysia and India. While in Europe, it is widely played in Denmark, Britain, Netherlands, Germany, Spain, Sweden and Russia. Thanks to #OnTheMove programme, organised by SportMalta and sponsored by Kellogg's, badminton training is held regularly at both Kirkop Sports Complex and Cottonera Sports Complex.
Classes on offer are for juniors aged 7 to 9 years, and for teens aged between 10 and 16 years. A couple of years ago, SportMalta launched training sessions for adults (17+ years) which today are gaining popularity.Parents are now able to register and join in badminton training.
"This involves a lot of movement and running, and players need to have a good level of fitness. The challenge of the game for a beginner lies mostly in the hand eye co-ordination to be able to hit the shuttlecock with a racket, which can be a daunting task," explained Edmond Abela, coach at Kirkop Sports Complex. "Participants first perform a series of drills with the racket and shuttlecock, and then enjoy a game which they can play as either singles or doubles."
The junior classes learn simple badminton exercises, such as the basic gripping technique, ways of hitting the shuttlecock across the net and basic rules of the game. This was explained by Melanie Grech coach for the junior and teens classes. In developing their potential, Melanie was not short in praising and encouraging each participant during the children's session.
#On the Move – winter programme is sponsored by Kellogg's the world's leading producer of breakfast cereal. For more than a century Kellogg's has been focusing on enriching and delighting the world through foods and brands that matter. The company has been extending its support to Skolasport (as formerly known) since 1999, and actively promotes a variety of educational sports disciplines within Sport Malta's winter programme.
Further information about #OnTheMove programmes, can be obtained from SportMalta Head Office on tel. 2203 6000, via e-mail: :info@sportmalta.org.mt"info@sportmalta.org.mt or visit the website: www.sportmalta.org.mt.