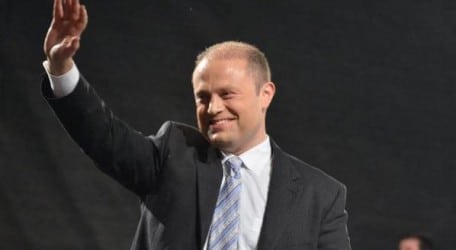 Pictured: Muscat on sweeping to victory in 2013
This column first appeared in Malta Today
*update: since this was written Keith Schembri has been released from arrest and Yorgen Fenech's request for a pardon has been denied
Tuesday will go down in Maltese political history for many reasons, but mostly for three resignations in quick succession in a country where resignations are few and far between. Correction, one of them was not actually a resignation, because Chris Cardona apparently, "suspended himself", whatever that means in politician-speak.
As the news spread like wildfire and iPhones pinged with constant What'sApp and FB messages, everywhere I went people were talking in shocked, hushed tones while glued to their mobiles as one breaking story followed another. The actual news (which was momentous enough as it is) was equalled and sometimes surpassed by the rumours, gossip and speculation which by the evening had turned into "facts"…only to be dispelled by the next day. It didn't help that there was a nationwide blackout for a few hours, at a time when everyone was desperate for information with no access to the Internet, TV or radio, and could only watch helplessly as their phone batteries began dying out. Naturally this led to even more conspiracy theories – but really, who can blame us for being so suspicious with everything that has unfolded so far? When people are lied to, the trust is irrevocably shattered and it will be a long time before it can be re-built.
But now more than ever, at this crucial moment, we need to stick to facts and this holds especially true for newsrooms. *As I write, what we definitely know is that Keith Schembri is under arrest, as is Yorgen Fenech's doctor, who was acting as a go-between between the two men. Yorgen Fenech, although on Police bail is said to be under strict Police supervision and is seeking a pardon after claiming to have incriminating evidence against Schembri.
What we also know is that, despite the persistent rumours on Tuesday, Joseph Muscat has not yet resigned nor is he showing any signs that he is going too. Instead, he is holding a political rally on Sunday, originally planned for Zejtun, now re-located to Fgura, for the party faithful to show their support.
There are not enough "wtf's" in the world to express how I felt when I read that news. Even if, as some are claiming, this is a regular weekly event, now was certainly not the time to amplify it and give it further promotion. It should have been cancelled quietly. But no, instead, Muscat seems determined to plow on, bolstered by a vote of confidence by his parliamentary group as well as the Labour Party executive. He was faced by a situation where he could have shown humility and maybe a tiny shred of shame, by telling us 'mea culpa' and stepping down as well, for standing by Keith and Konrad for three whole years, despite everything that emerged about them. Instead, for those three years he not only protected them, but strengthened their hands, until their heads ballooned with arrogance and their egos became inflated with the aura of untouchability and invincibility. As Prime Minister, political responsibility goes beyond what the PM does himself, but extends to the people he surrounds himself with who, in this case, had enormous clout and power.
If he showed appallingly poor judgement it would be bad enough, but you cannot blame the public for suspecting he kept them on for other, more sinister reasons. What he cannot seem to understand, or admit, is that his inaction dragged the country through needless scandals, antagonism and turmoil, which culminated in the murder of Daphne Caruana Galizia. It is yet to be established just how implicated those who have resigned, and others who are under arrest, are in this heinous crime.
The decision to rally the troops in a Labour stronghold on Sunday is wrong for all sorts of reasons, but mostly because this is so not the point. (At least the PN, which was foolishly going to hold its own political rally, had the sense to listen to people's outcry and cancelled it). This is not about red or blue, or wanting to topple the Labour Government; after all it was democratically elected and the Opposition is still a house divided, so it simply does not have the numbers to pose any real threat.
But if Muscat can only think about surviving yet another blow, just as he has weathered countless blows over the last six years, then he has truly and completely lost his ability to read the mood of the nation. Or worse still, maybe he just does not care any more. He has literally become a shell of the man who swept to power with a beaming smile in 2013. Hearing his name chanted by Labour diehards who still adore him may provide him with a temporary boost to his visibly crushed spirit, but the next day he will have to face his own haggard reflection in the mirror once again and take stock of reality.
And that reality is simple: after what happened on Tuesday, we cannot go on as if nothing has happened with the same PM at the helm. The Labour Government needs to clean itself of all those who have tainted it so terribly, so that it can focus on running the country with hopefully more decent people in charge, who will place social justice back at the helm of what the party should represent. The future of Malta depends on it.