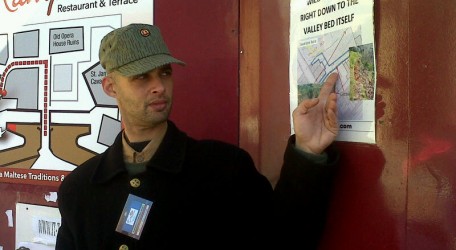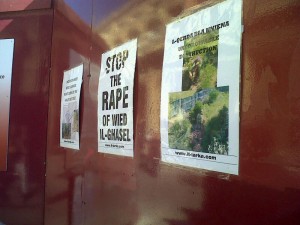 If you see a young man at the entrance to Valletta, asking for your signature to a petition, please don't just duck your head and walk past him. His name is Jonathan and so far he and his colleagues from Harsien Patrimonju Mosti have collected over 19,000 signatures in order to try and save Wied il-Ghasel, one of the few remaining untouched valleys, from being developed.
An application for an old people's home was first submitted for MEPA approval in 2005 but was turned down repeatedly. Then in 2009,   MEPA gave the go ahead for the building of 24 apartments and 26 garages in a plot that lies on one side of Wied il-Ghasel, Mosta. Work is currently under way.
The complete story can be found on the group's website, www.it-tarka.com, which is regularly updated with what is happening on site.
So if you care about preserving Wied il-Ghasel, please don't just ignore Jonathan and keep walking, but stop and sign the petition, which is asking for the MEPA permit to be withdrawn.  He is there every day from 11am  – 8pm, rain or shine. This morning he told me how disheartened he gets when the public shows indifference, although some days the response is better than others. Fortunately, as I was talking to him after signing the petition, several other people stopped to ask questions and sign as well.
Alternatively, if you really wish to help with this worthy cause, you can download a petition form from the website and collect your own signatures from family and friends. The Green Party Alternattiva Demokratika is also supporting this initiative by Harsien Patrimonju Malti.