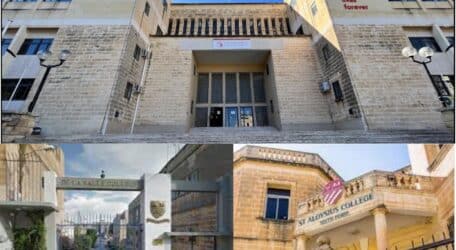 Who is ESU Malta?
ESU Malta was established in 2009 and has been active in Malta and (through a branch) in Gozo ever since. We are an NGO that promotes spoken English throughout the Maltese Islands, as well as essential communication skills, like public speaking, debating and delivering presentations.
What does ESU Malta do?
Our signature contribution to Maltese society is through an Arm of Support programme that started initially at Zabbar Primary School A and, from last year, was expanded to Valletta Primary School. Over the past eight years, 500-600 primary schoolchildren in Kinder 1 and Kinder 2, Year 1 and Year 2 (before the English language is taught formally in state schools) every year are exposed to the English language in the context of play, communication and discussion.
Part of our remit has been to work with sixth formers across the islands in state, Church and private schools and university students to teach Public Speaking and Debating that is considered so essential that it has even been included as part of the sixth formers' Systems of Knowledge Project.
Since its inception, some 750 students have taken part in our public speaking and debating academies, competed in national competitions and the winners of our public speaking competition have even competed in London at the ESU International Public Speaking Competition, earning a once-in-a-lifetime experience, being exposed to networking opportunities for future public speaking opportunities around the world, and making lifelong friends.
Over the years, we have seen students progress from 3- to 6-year-olds who are now capable of and confident in debating and discussing issues both in English and Maltese. We have seen sixth form students face oral exams and class presentations with confidence, and go on to lead student organisations and grow hugely in their ability to externalise their thoughts.
We can, hand on heart, say that we are shaping the workforce; the healthcare professionals, architects, lawyers, teachers and businesspeople of the future.
Being able to communicate effectively is a game-changer both at school and in the workplace. We have prepared hundreds of students to excel in these fields.
How is ESU Malta funded?
ESU Malta has, up to now, relied on a contract with the Ministry of Education to supply its services, through the employment of a Director of Studies, Pia Zammit, and an Arm of Support Tutor, at a cost of a paltry €40,000 a year. Last Wednesday, ESU was formally advised that the contract will not be renewed.
What is the way forward?
We understand that the entire government is facing challenging times but what ESU does is a good way to spend taxpayers' funds. The Board of the ESU is made up totally of volunteers and services like accounting and auditing are offered pro bono because we are an NGO and we have a social purpose.
Following a meeting our chairman and hon. secretary had with the Minister of Education earlier this year, the ESU presented documentation to the Department of Education last June outlining a three-year plan that would seek to expand the Arm of Support Programme. We believe in the benefits of this programme and we have documentation to show that it has a beneficial effect on the pupils as they move through their educational journey.
No response was received before last week. The Education Department could have put up the programme to tender (and we would surely have been the most competitive bidder) but it is now clear that the intention was not to renew, despite our work over a decade in this field.
We believe ESU Malta deserves the serenity of a three-year rolling contract. Our accounts and finances are fully transparent to the ministry and we are, in addition, continuing to offer other services of benefit to the community that are reaping rich dividends.
Do we really want to deny our 3- to 18-year-old children essential language and communication skills and further lose the advantage in spoken English that this country has enjoyed in economic and educational terms?
What if a new contract is not signed?
ESU Malta has fully respected the terms of the current contract. It has recruited a new Arm of Support tutor and engaged with sixth form colleges to enrol students for its public speaking and debating academies the current academic year. All this was done in good faith.
Since the contract runs out on 16 November (on Wednesday next week), we will cease our contribution, leaving hundreds of children in the lurch.
The ESU will then have no choice but to cease operations, making its staff redundant, by the end of the year. Another chapter of ESU Malta will sadly come to a close.
---