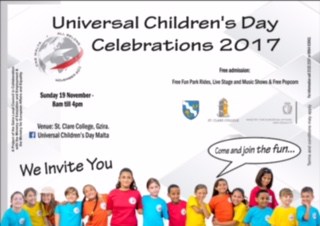 The Gzira Local Council,  in  collaboration with St Clare College have the pleasure to invite all children and their families / guardians to come celebrate Universal Children's Day in Gzira on Sunday the 19 of November 2017.
As usual it is all free from admission to stage show and use of the fun-park, there will also be a free bag of popcorn for every child and extra gifts or snacks for those children attending the 9am stage show.
Universal Children's Day is a day of celebration for all children in in the world
A child's right to play is recognised in article 31 of the United Nations Convention on the Rights of the Child.
Come Join at St Clare College Gzira on Sunday the 19th of November, 2017
Minors / children need to be accompanied to use the fun park. Free snacks and gifts are strictly for children and will be distributed till stocks last.
The event is supported by: Gzira Local Council;; St Clare College; The Ministry of Education; The Ministry of European Affairs and Equality; Grandparents Foundation.
Groups are welcome for parking facilities please call 99643962.
For more details go to  https://www.facebook.com/UniversalChildrensDayMalta