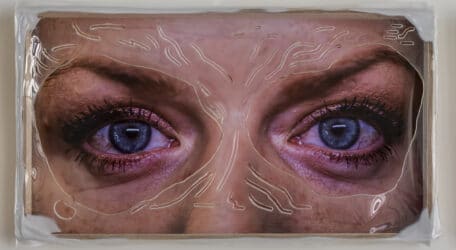 The strength of womanhood through the eyes is the theme of a recently launched exhibition "Eyes Wide Open", which features the work of international photographers Yavor Sedyankov and Hristo Rusev as depicted through the artistic installations by artist G. Luigi Rossi.
"The aim was to co-create bold and unique works of art to generate awareness on the fundamentals of gender equity and to look closer at the strength that comes from womanhood. Through this exhibition, the artists are portraying the strength of women, which can be powerful or soft and is always seen in their eyes," Mr Sedyankov said.
Sedyankov and Rusev both provided photographs of the eyes of women for the exhibition. Mr Rossi explained: "The perplex play with perspex reminds us of the feminine shape, symbolically shown as a chalice or grail. The artwork recreates the pyramid shape between the eyes, bringing the focus into the eyes which speak a lifetime in their silent look. The grail has a symbolical remembrance to the uterus where human life begins".
Mr Rusev said: "Eyes are powerful tools, as they connect in the inner world with the outer through a minuscule space that bridges the present surroundings with all that is possible in thought and memory. Each pair of eyes knows a world of their own that cannot be reduced to words."
G Luigi Rossi is a Malta-based artist who also founded ArtMalta in 2016. He has exhibited his work around the island and overseas, including in Italy, France, Bulgaria and the US.
For the past nine years, photography has become part of how Bulgaria-based photographer Hristo Rusev sees life itself. His photographs were acknowledged and published by some of the most prestigious media houses in the world, such as The New York Times, Wall Street Journal, National Geographic Magazine and CNN.
Yavor Sedyankov is a photographer from Bulgaria, co-founder of the international conference for photography and videography Made Pro, and also part of the team organising Photoschool.bg
"Eyes Wide Open" is a travelling exhibition that officially opened at the Aldabra Art Gallery in SmartCity, Malta on 16 April 2022, and is being held in collaboration with ArtMalta and VME Co-op.
---