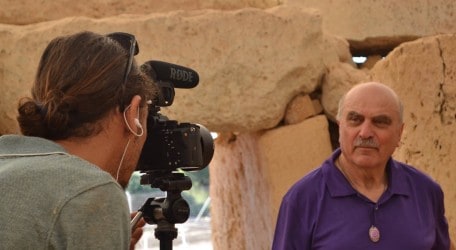 The connection between Malta's Prehistoric Temples and Atlantis is revealed in a documentary which will be premiering in Malta on Saturday 24th March.
The 45-minute documentary is the work of Francis Xavier Aloisio, a Maltese author and artist, and Ed Hamilton, Director of Sprout Media.
Last year, both Aloisio and Hamilton embarked on a special journey, and produced a unique documentary entitled "Let the Stones Speak – The Maltese Temples and their connection to Atlantis".
The script was the work of Aloisio, based on his book "Islands of Dream" which delves into the notion that the Maltese Prehistoric Temples are actually older than previously known and questions current theories about the temples. The documentary fills the missing links to the Maltese structures that they were actually built during the ancient Atlantean period. This was done with extensive research using a metaphysical, esoteric, cosmic and spiritual perspective.
The first screening will take place on Saturday 24th March at 6pm at the il-Gillieru Hotel in St Paul's Bay. The feature will then be available for viewing on social media as from 25 March.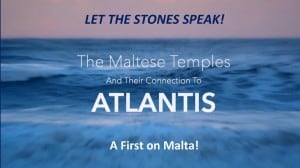 Francis Xavier Aloisio said: "The 45-minute documentary is the result of over 100 hours of footage and the making of this investigative feature was a 'challenge' and an 'enterprising' undertaking to say the least. We did miracles with the time constraints, the means and the personnel that were at our disposal during their adventure, but we managed to raise enough money through the support of friends, backers as well as sponsors, and were finally able to film this original documentary."
This feature is a first in many ways. It is the first Maltese documentary on the temples based on the books of a Maltese author. Moreover it is directed and created by a Maltese media production company and is accompanied with music by a Maltese musician and composer. The documentary was filmed entirely on Maltese soil.
The team is grateful to the many volunteers and to all those who supported and gave their donations and backing for this project. They wish to extend their gratitude to Mario Sammut of Cygna for the use of his music that brought this innovative documentary to life and to Russell Muscat and the staff at Heritage Malta for the support and the necessary permits to film at various sites. Aloisio said that this project was an endeavor of courage, audacity and determination.
The team is looking forward to working on their next installment in this coming year.