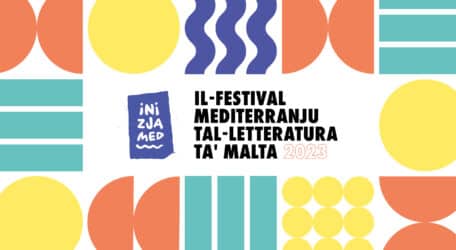 The XVIIIth edition of the Malta Mediterranean Literature Festival organised by Inizjamed will be held between Monday 21st and Saturday 26th August 2023. All events are going to be held at the Valletta Design Cluster and Fort St. Elmo, in Valletta.
Seven writers from five countries are reading at the festival, which also features poetry films, a jazz band, local singers, a book stall curated by Mallia & D'Amato, drinks and a selection of food.
The authors participating in this XVIIIth edition are Tanja Bakić from Montenegro, Adania Shibli from Palestine, Joelle Taylor from the United Kingdom, Karin Tidbeck from Sweden and Claudia Gauci, Maria Grech Ganado and Simone Inguanez from Malta.
Readings will be mostly in Maltese and English, but some short works will also be read in their original language.
This year's festival is supported by Arts Council Malta through the Investment in Cultural Organisations fund. The Festival is also part of the Literary Europe Live platform funded by the Creative Europe programme of the European Union and managed by Literature Across Frontiers. The festival is also supported by Valletta Design Cluster, Heritage Malta, l-Għaqda tal-Malti – Università and the Polish Embassy.
—
On Tuesday 8th and Wednesday 9th August, a workshop with children will be held in
Imġarr. This will be led by Claudia Gauci and Justine Somerville.
On Friday 18th August at 1.00pm, a lunchtime reading will be held at Ta' Berta in
Għargħur together with Simone Inguanez and Ruqaya Izzidien.
On Monday 21st August, Ray Fabri will moderate a roundtable discussion in English about "The expression of gender in literary writing", with the participation of writers Simone Inguanez, Karin Tidbeck, Joelle Taylor and Tanja Bakić.
On Tuesday 22nd August, local poet Antoine Cassar will lead an event commemorating the centenary of the birth of Wisława Szymborska, a Polish Nobel Prize winner poet and essayist. The special guest will be Michał Rusinek, Szymborska's former secretary. This event will be held in collaboration with the Embassy of Poland.
All events leading to the final nights of the Festival will be held at the Valletta Design Cluster and will start at 7.00pm, unless specified otherwise.
On Thursday 24th August, a masterclass with Joelle Taylor will be held at the Valletta Design Cluster. The masterclass will start at 9.00am.
Thursday 24th August
The first evening will be a multilingual Open Mic with special guests Tatev Chakhian and Ruqaya Izzidien. Writers and singer-songwriters will be given the opportunity to read or perform their works on the main stage.
Friday 25th August
At 7.00pm, an event will be held with Nigerian-Irish poet, performer and playwright Felispeaks, together with Tobi Bello, with the support of local artists Noah Fabri and Ġagħel Dingli. This event is part of Project Ulysses' Shelter 3.
The writers reading during this evening are: Maltese poet Simone Inguanez; the prominent Montenegrin poet Tanja Bakić; renowned Maltese Poet Laureate Maria Grech Ganado; and the multi-award winning British poet, author and playwright Joelle Taylor. An interview conducted by Immanuel Mifsud will be held with Maria Grech Ganado.
This night will also feature a poetry film and live music, which will be provided by the resident jazz trio, led by Effie Azzopardi. Local singer Cheryl Camilleri will also perform a number of songs.
Saturday 26th August
The writers reading on Saturday 26th August are: Maltese poet Claudia Gauci; Swedish author of fantasy Karin Tidbeck; and renowned Palestinian author and essayist Adania Shibli. An interview led by Adrian Grima will be conducted with Adania Shibli.
This third and final evening will also feature the screening of another poetry film and live music, which will be provided by the resident jazz trio, led by Effie Azzopardi. Local singer Claire Tonna will also perform a number of songs.
Some of the literature read during the festival might require an adult audience.
The writers will be in Malta throughout the week of the festival to take part in the Malta LAF Literary Translation Workshop led by Nadia Mifsud. They will be translating each other's works, and reading some of these translations during the festival.
Following the festival week an event will also be held at Dar Kenn għal Saħħtek.
The 2023 edition of the Malta Mediterranean Literature Festival and the Malta LAF translation workshop are being held in partnership with Arts Council Malta and Literature Across Frontiers, and with the support of Heritage Malta, Għaqda tal-Malti – Università, Valletta Design Cluster, Studio Solipsis, and Project Ulysses 3. The MMLF is the recipient of the EFFE, Europe for Festivals, Festivals for Europe label.
The new Festival logo and other promotional material were designed by artist Naomi Gatt.
More information is available on Facebook on pages of Inizjamed Malta and the Malta Mediterranean Literature Festival 2023 and at inizjamed.org. Most of the events are free unless indicated otherwise. Tickets for the final nights may be purchased from www.showshappening.com.