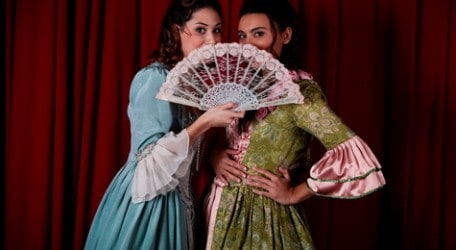 Pictured above: Tina Rizzo and Giulia Gatt
She Stoops to Conquer by Oliver Goldsmith is a classic comedy/farce that looks at the behaviour and marital expectations of the upper classes in England in the 18th Century.
The play with its theme of mistaken identities, deception and love making, is one of those rare comedies that have succeeded in remaining funny and still relevant more than 200 years later – enjoying regular runs the world over..
'She Stoop to Conquer' is directed for the MADC by comedy veteran Malcolm Galea ('Marti Martek, Martek Marti', 'Porn: the Musical') with Marylu Coppini, Stephen Oliver, Tina Rizzo, Andre Agius, Joe Depasquale, Giulia Gatt, Gianni Selvaggi, Michael Mangion and John Marinelli
Goldsmith's trickery and misunderstandings create truly comic situations that are not to be missed!
The show runs at the Salesian Theatre from the 17th to the 19th of March, before transferring to the Manoel Theatre from the 23rd to the 26th March.
TICKETS: – Online: www.madc.com.mt – Email: [email protected]