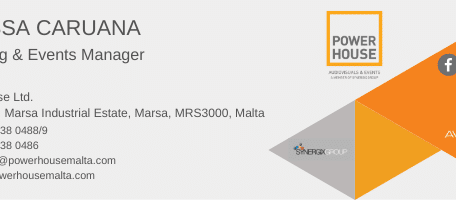 Powerhouse Audiovisuals and Events to shine a beam of light in various localities in Malta from Friday, as a gesture of thanks towards those showing solidarity towards the community amid the Covid-19 pandemic.
As the Covid-19 pandemic continues to dominate our everyday existence and most people stay home to adhere to health and safety measures, this unusual way of life has become the new normal and it is understandably challenging for some.
Bringing light to this rather dark period, Powerhouse Audiovisuals and Events is embarking on an electrifying initiative to celebrate the sense of solidarity and community that the pandemic has inspired across Malta and Gozo.
On Friday 1 May, the feast of St Joseph the Worker, Powerhouse will launch #LightTheSkyMalta, and the company will shine a bright beam of light across the sky from Ħaġar Qim Temples. This will serve as a gesture of thanks to all those battling against coronavirus in some way.
The light will then also be shone from the Saluting Battery in Valletta on Sunday 3 May, and over the following fortnight, every couple of days or so, the powerful beam will light the sky from different locations across Malta, spreading its positive and illuminating message.
"In these dark times, we want to light up the sky with a mighty beam to express our thanks to all those who have helped our community through this crisis so far – both on a professional and personal level." says Mark Vella, Powerhouse's Founder and Managing Director. "From the medical professionals on the front line, to grandparents being unable to see their grandchildren for safety reasons, everyone has been affected across the whole spectrum of the community, and we'd like to thank everyone for this amazing show of solidarity with one another."
Powerhouse is inviting members of the community to spot the bright light from their balconies and gardens, and to unite with their neighbours and friends to shine their own lights into the sky using their mobile phones or other means. "We hope this will give people a sense of belonging," Mr Vella adds.
In collaboration with Heritage Malta, Powerhouse will light the sky from a number of locations managed by the agency over the next couple of weeks, and Local Councils are also invited to participate.
Further details about the locations where the light will be shone in the coming weeks will be shared on https://www.facebook.com/powerhousemaltaltd. For further details about #LightTheSkyMalta, please email info@powerhousemalta.com.