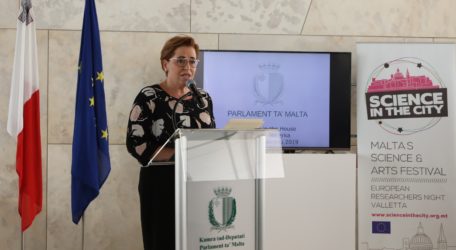 Event marks Science in the City – European Researchers' Night 2019
2
The 8th edition of Science in the House exhibition was officially opened by the Deputy Speaker of the House of Representatives, the Hon Claudette Buttigieg, at the Parliament Building in Valletta. The event celebrates the achievements of Malta's research scientists, academics and engineers.
Prof. Saviour Zammit, Pro-Rector for research and innovation, introduced four researchers, who were recently granted University Research Grant Awards. Their successful research funding proposals cover different categories: Dr David Zammit was awarded from the Art, Humanities and Social Sciences; Dr Jason Gauci from Engineering/ICT, Professor Joseph Borg from Life Sciences, and Dr Jackson Said from the Natural Sciences category.
A signature annual event, Science in the House brings together scientists and Members of Parliament under one roof. The exhibition is a media and networking forum showcasing 16 scientific research projects from the University of Malta and MCAST. The exhibition will demonstrate virtual reality technology for the first time.
Science topics include quantum computing and telecommunications, marine fish conservation, computer aided drug design, genetics of osteoporosis, food testing of dairy products under various climatic scenarios, satellite imagery enhancement technologies, innovative methods for blood cancer detection, new drugs for blood disorders, lab-on-a-molecule diagnostic technology and much more.
Science in the House exhibition is open for public viewing at the Parliament foyer tomorrow at 6 pm till midnight and during Notte Bianca on Saturday 5th October.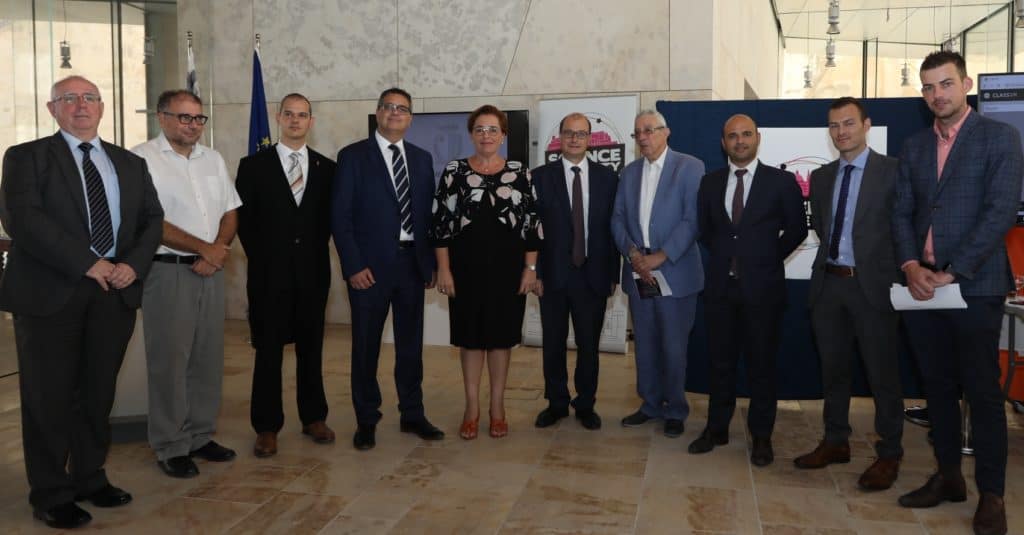 The event inaugurates the Science in the City – European Researchers' Night taking place on Friday 27th September from 6.00 pm till midnight in Valletta. This year the festival programme theme is "The Science of YOU".
Science in the City is part of the EU-wide celebration European Researchers' Night. It is funded by the Marie Skłodowska-Curie Actions of the Horizon 2020 Program of the EU, and a number of corporate sponsors. It is recognised as a Festival by Europe for Festivals and Festivals for Europe (EFFE)
The consortium is led by the University of Malta, Malta Chamber of Scientists and the University's Research Trust (RIDT), in partnership with Parliamentary Secretary for Financial Services, Digital Economy and Innovation, Ministry of Education and Employment, MCAST, Esplora, JUGS Ltd, Studio 7, BPC International, GSD Marketing Ltd, Aquabiotech Ltd, MEUSAC, PBS, Spazju Kreattiv, Valletta Local Council, Malta Council for the Voluntary Sector, Small Initiatives Support Scheme, More or Less Theatre, Transport Malta, Kreattiv and Creative Community funds, and Arts Council Malta.
Full programme can be viewed on www.scienceinthecity.org.mt or follow the festival on Facebook for regular updates: www.facebook.com/ScienceInTheCityMalta