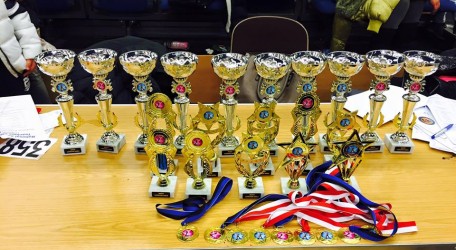 Trophies all around for Steps Ahead Dancers.
Steps Ahead students had a number of wins at the last two dance competitions in which they participated. To name just a few, at the Malta Dance Championships held on 27 October, Steps Ahead students managed to get 16 first places including one for David and Dolores Bland who were awarded first place in the Ballroom Senior Championship.
This November, Steps Ahead students also had the opportunity to represent Malta at the Crawly London Dance competition organized by the prestigious NATD (National Association of Teachers of Dancing) All participating students managed to make it to the finals hence get qualified to participate in the NATD Grand finals held at the Empress Ballroom/ Blackpool in November 2016, at the most prestigious venue and the largest Ballroom in Europe. But that was not all, they also managed to get 10 first places and the Junior/Juvenile couple Nicole Gatt and Keane Scerri De Carlo also managed to place 3rd from 120 couples in the open competition.
Each competitor had a repertoire of both solo events and couples events. On the solo events students were partnered by one of their teachers and competed against students in their same grade.
Dance Competitions are a fantastic opportunity to develop pupils' confidence and ability to perform in front of an audience. Dance teaches good posture, rhythm, coordination, social skills commitment and most of all it's great fun. These qualities are all magnified within the competitive dance world.
Steps Ahead competitors look forward to keep working hard in order maintain the high standard of performance and technique that has been set, and continue to represent their Academy so professionally and successfully.