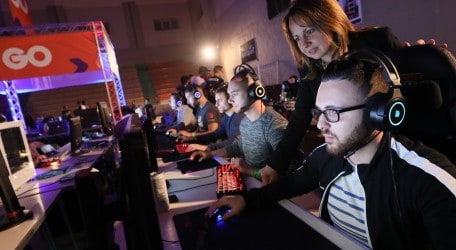 More than 200 competitors at this weekend's GO eSports Festival will experience the power of a GO super fast 1Gbps internet connection. The festival, organised by gamers.com.mt at the Corradino Sports Complex, features three games; Call of Duty II, League of Legends on PC and FIFA 17.
As the main sponsors of gamers.com.mt, GO is providing the Fibre internet network for this event with a 1Gbps Local Area Network (LAN). The festival will culminate in a series of much anticipated finals on Sunday with winners picking up monetary or hardware prizes.
eSports also provides an exciting viewing experience for the public and entry tickets to the Corradino Sports Complex throughout the festival, starting from €6, are available from the gamers.com.mt website. Fans can also follow the festival online through a number of live broadcasts, including on the GO facebook page.
Daniela Bagnaschi, Senior Manager – Marketing, at GO plc, said, "GO is delivering true superfast Fibre internet to an ever growing number of customers across Malta. This connectivity will revolutionise our home entertainment experience. For those who love gaming and eSports particularly, Fibre internet with speeds of up to 1Gbps, is opening up a new world of exciting opportunities."
Gamers.com.mt was established in 2012 to give Maltese gamers the opportunity to test their skills in a competitive environment. The GO eSports Festival will feature improved high end equipment and a specially constructed stage designed specifically to provide an enjoyable viewing experience to the public. More information on the GO eSports Festival is available from http://www.gamers.com.mt.