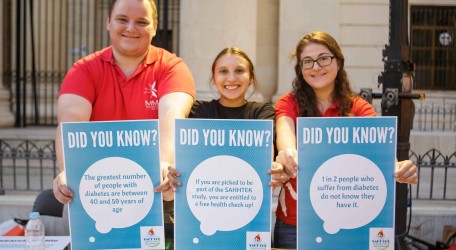 Photo above by iCreatemotion Photography
For one night, Valletta was transformed into a science and technology festivity being the 4th edition of Science in the City – European Researchers' Night. Numerous families and youths thronged into the city to experience a myriad of science activities from a rocket show and interactive astrophysics experiments at St George's Square to giant bubbles, robots and 3D printed proteins at Valletta City Gate. As a follow-up, until Saturday 3rd October, the new Parliament Building is hosting an exhibition of 12 research case studies presented by the University of Malta as informative posters.
Science in the City, European Researchers Night is mainly funded by the EU Marie Skłodowska-Curie Action of the Horizon 2020 (H2020) Programme and organised by a consortium that is led by the University of Malta, the University's Research Trust (RIDT) and the Malta Chamber of Scientists. It is recognised by Europe for Festivals, Festivals for Europe (EFFE).
Photograph s: kindly include credit :
/ or
image by Elisa von Brockdorff as indicated on the attached photos.