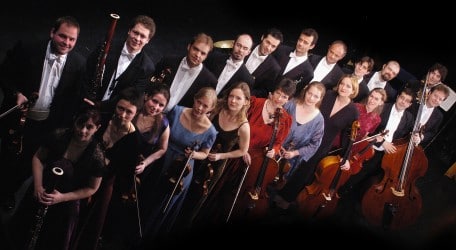 This year, the International Spring Orchestra Festival (ISOF) is opening with an exciting concert on Friday 1st April at the Manoel Theatre, with a varied programme featuring the world-touring European Union Chamber Orchestra and its esteemed conductor Hans-Peter Hofmann, soprano Miriam Cauchi, and violinist Minha Park, who will bring to life pieces by Gustav Holst, Wolfgang Amadeus Mozart, Joseph Vella, and Benjamin Britten.
The idea behind the International Spring Orchestra Festival, which this year is celebrating its 10th anniversary, is to create, year in year out, a special event where established local artistes gather with guest stars coming from the four corners of the globe to make music of the highest quality together, and where the audience comes to expand its musical horizons in an exciting and artistic environment.
This year the ISOF is introducing a new concept of pre-concert and post-concert events, with the idea of getting together to discuss music and anything else over fine food and drinks. For the Opening Concert event, patrons can choose to buy their concert tickets as part of a VIP Package, which includes a pre-concert glass of prosecco at Michael's in St George's Square, Valletta, to sip during a pre-concert talk. After the concert, there will be a stand-up gourmet event with free flowing wine, waiter service and a buffet of hot and cold items and very fine cheeses from Sicily, at the same venue, Michael's. Here, patrons will have the unique opportunity to meet with the musicians and the artistic director of the Festival.
For the Festival's Opening Concert, this melting pot is reflected in the eclectic programme. The first piece will be Gustav Holst's St Paul's Suite, which the English composer completed in 1913. The piece was written in gratitude to the St Paul's Girls' School for having provided him with a large soundproof room for his work, and St Paul's Suite was the first piece he wrote there.
Up next will be Wolfgang Amadeus Mozart's Violin Concerto No 5. In 1775, between April and December, Mozart composed five violin concerti (and possibly two more) which, along with the Concerto for Two Violins and Orchestra and the Sinfonia Concertante for Violin and Viola, collectively represent his entire output for violin in this genre. Musicologist Abraham Veinus sums up the mood of the entire Concerto by saying that, "There is something magnificently childlike about this concerto, a kind of innocent grandeur, illuminated by flashes of wit, good humour, and moments of the most immaculate lyrical poetry."
The third piece is called Dust on the Path. This work is a number of collected poems by Alistair Chalmers which in 2015 were set to music in a song cycle for Soprano and Orchestra by Mro Joseph Vella. The premiere of this work was performed at the opening night of the 2015 Victoria Arts Festival, and is now being performed at the Manoel Theatre for the first time. Alistair Chalmers' The Dust on the Path was published in 2011. After his death in 2012, aged just 31, his family established the Alistair David Robert Chalmers Trust in his memory, and the ADRC Trust supports those causes that were important to Alistair Chalmers – encouraging talent in the young, Hispanic studies, the visual and performing arts, and the heritage and environment of Malta and Scotland.
The fourth and last piece will be Benjamin Britten's Simple Symphony op 4. Britten wrote the piece in 1934 at the age of 20, and despite it being a modest work, it gained him a large amount of popularity very quickly. The piece also brought Britten critical acclaim and essentially launched his compositional career. The years that followed have seen the piece become a useful element in string orchestra repertoire.
The high-level artists performing in this opening concert include Miriam Cauchi, who is a firmly established Maltese soprano, making a name for herself both in Malta and beyond. Possessing a rich, clear and velvety voice enables her to tackle a wide range of repertoire from Italian bel canto opera, oratorio, to lieder and contemporary works. She is a major ambassador of Maltese vocal music, singing and recording important compositions by Abos, Camilleri, Diacono, Isouard, Vassallo, Vella and Zerafa.
Rising star violinist Minha Park performs widely on the international stage as concerto soloist and recitalist, and she has often been a guest artist in festivals in Europe and Korea. The Strad Magazine had commented on her "remarkably light and transparent tone of exceptional purity". This past season, Minha performed as soloist with different orchestras including Dacapo Kammerphilharmonie Orchester Munich and the Karlovy Vary Symphony Orchestra in Prague.
Hans-Peter Hofmann will be conducting the European Union Chamber Orchestra for this concert. Already as a student, he began his wide-ranging and successful international career as concert-master, chamber musician and soloist, touring in England, France, Holland, Spain and Austria and performing in major halls such as the Vienna Musikverein and Vienna Konzerthaus, the Berlin Schauspielhaus and Cité de la Musique in Paris. Hans-Peter became concert-master of the European Union Chamber Orchestra in 2007 with which he has since toured throughout Europe, South America and the UK, where several of his concerts have been broadcast live on BBC Radio 3.
The European Union Chamber Orchestra gave its first concerts in 1981 and soon gained a worldwide reputation as a musical ambassador for the European Union. After touring extensively all over the world, since 2005 the EUCO has devoted more time to performing across Europe, in particular in the new member states of the European Union. Giving annually circa 50 concerts (to date in 73 countries), its schedule includes prestigious halls such as the Amsterdam Concertgebouw, Frankfurter Alte Oper, Milan's Sala Verdi and Valencia's Palau de la Musica as well as many major halls across Britain.
The International Spring Orchestra Festival's Opening Concert will be held at the Manoel Theatre, Valletta on Friday April 1 at 8pm.
The VIP Package is on sale for €55 per person (price includes concert premium seats tickets). Since this is for a limited audience, the package can only be reserved for pre-paid bookings by sending an email to [email protected]
For more information and for regular updates on events, visit the ISOF website at http://www.iso-festival.com. Tickets at €10, €15 and €20 (free for children 15 years and under and with a 50% discount to students and senior citizens) can be purchased from the theatre's website, through ticketline.com.mt, or by sending an email to [email protected] For telephone reservations please call 2124 6389. The organisers are offering the possibility to purchase block tickets for the whole festival for €100.