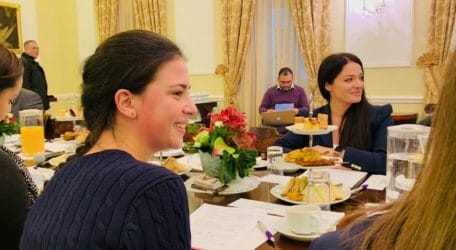 Prospective MEP candidates today fielded tough questions from children on a series of sensitive matters as they sought to find the right contender to champion their rights in the European Parliament.
During a Children's Roundtable organised by the President's Foundation for the Wellbeing of Society at San Anton Palace, prospective EP candidates were quizzed about immigration, accessible healthcare, environmental concerns, and bullying, among many other issues.
Foundation director general Ruth Farrugia said: "This roundtable gives children the opportunity to voice their opinions and share their priority areas with the people who will be representing them in the European Parliament."
A total of 13 prospective MEP candidates accepted the invitation to take part in this event — the first such event being held with EP contenders — and the children were well prepared to ensure their concerns were aired.
The children said in the case of stranded immigrants at sea politicians should act first and discuss later, and they expected MEPs to stand up against the unfair negative portrayal of immigrants. Immigrant children, they believed, should have equal and meaningful access to education and their right to freedom of religion respected.
They also questioned the island's overdevelopment, the felling of trees, single-use plastics, securing safe public spaces, encouraging renewable energy, having fewer cars on the road, better teaching methods, banning animal cruelty
Bullying was also tackled and the children said this affected the victims deeply, and eroded their self-confidence and self-esteem. Bullying had to be tackled quickly, and not ignored by parents and teachers, otherwise, it will just get worse. 
The children raised the importance of civic education for 16-year-olds who would be voting for the first time, called for a reduction in political partisanship, and stressed the need for better mental health support at a community level.
Dr Farrugia said: "It's always a challenge to sensitise adults to child participation rights — so giving children a voice is an ongoing process. As a country, we need to ensure an uninterrupted process of listening to children's voices in different areas and in ways that are sensitive to their needs and abilities."
From its inception, the President's Foundation has focused on children's rights, particularly on the UN Convention on the Right of the Child with a special emphasis on Article 12. This states that children, have a right to give their opinion, and for adults to listen and take it seriously.
President Marie-Louise Coleiro Preca has also just been nominated to be an honorary member of Eurochild for her exceptional commitment to children's rights.
The event comes just weeks after the EP President appointed Anna Maria Corazza-Bildt as its new coordinator for children's rights, a move that was welcomed by the Foundation as it ensured the promotion, respect and safeguarding of children's rights in all EP policy and legislation.
The results of today's roundtable discussion will also feed into a pool of information coordinated by Eurochild alongside other member state countries who are carrying out similar initiatives. This information will also be useful to the Europe-wide research Eurochild is coordinating, called The Europe Kids Want.
"We hope this roundtable will be instrumental in putting children's rights and child participation high on the agenda both at local and at European level," Dr Farrugia said.
Children's priorties include:
Politics
Introduce civic education to inform the population, especially young people, about voting critically and thoughtfully in each election.

 

Work to reduce political partisanship, promote objective and unbiased information, and increase independent voting.
Keep children informed as to what is happening in Malta, through an accessible media news update, as an alternative to adult news programmes.
Health
Health care should be affordable and accessible to everyone.
There should be more support for people with poor mental health within the community, and not just in institutional settings.
There is a need for more information and awareness about sexual health, especially at school. This should include support in preventing and addressing teenage pregnancies and STDs.
Environment
There should be more incentives for people to clean up the environment, and ways to stop people from littering.
Reduce plastic use, introduce biodegradables, and enforce the ban on single use plastics.
Encourage the use of renewable energy and push towards a greener economy.
Reduce (and don't encourage) car use. Facilitate other forms of transport instead, and reward people for using them.
Protect trees, because they are important.
Urban planning and development
Make better use of abandoned houses before developing and constructing more buildings, and taking up more public space.
It should be cheaper to renovate an old house than buy a new one.
Public places should be protected, and better planned after dialogue with local communities. They should be safe and accessible to the people who want to use them.
Education
Education should look at the individual needs of each student, and teach children in more creative ways (not just in a classroom).
Teaching should be considered a vocation, where teachers are passionate, inspiring, valued, and recognised for their hard work.
Subjects which are taught at school should be more closely tied with real life situations that children will come across in their lives.
Out-of-Home Care
It takes too long to for decisions to be taken on children's out of home care. Children should have a say in what happens to them, and be listened to.
There should be more research on what children really want, and what options are favoured by children who require out-of-home care. This should be shared with authorities who can take these important decisions, after listening to them.
More people should be encouraged to foster and adopt children, especially infertile couples.
Reduce the stigma surrounding children in out-of-home care.
Children in out-of-home care can benefit from the support of a mentor.
Bullying and Violence
Bullying affects you deeply and affects your self-confidence and self-esteem.
Bullying needs to be tackled quickly, and not ignored by parents and teachers, otherwise, it will grow. If teachers are scared to stop fights, then the children become even more scared. Teachers and parents should be given support on how to identify bullying and respond effectively.
Someone must stop bullying from happening on social media.
Care and support must be given to both the victims and to the bullies themselves. This can include the support of a mentor.
Schools need to emphasize positive values and promote peacebuilding at a very early age, as it may be too late to change behaviour later.
Be aware of the link between discrimination and bullying. There should be efforts to stop discrimination because this leads to bullying.
Immigration 
Act and then discuss. When MEPs are faced with a situation that is urgent, they should take immediate steps, not spend time discussing things, as happened in the recent case of people left at sea for weeks.
Asylum seekers should be met with a friendly face, not the police.
Positive voices of migration should be shared, to counter the negative voices and to promote a shared understanding of one another. We expect MEPs to stand up against the unfair negative portrayal of immigrants.
We should prevent immigrants from being exploited, especially at work.
Immigrant children should have equal and meaningful access to education.
Children should have their right to freedom of religion respected.
There should be increased resources to support migrants and respond to their trauma.
Poverty and Social Exclusion
Lack of inclusion affects the elderly, who can suffer from loneliness.
Poverty leads to social exclusion and must be tackled.
Gender Equality
Immediate action should be taken to close the gender pay gap completely.
Feminism is misunderstood and should be seen as fighting for gender equality. There should be no discrimination between men and women.