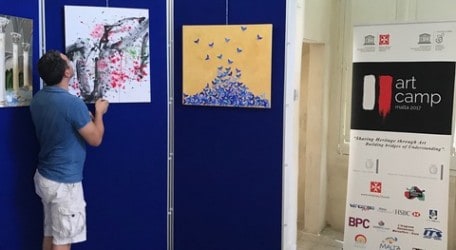 The extraordinary success of Art Camp Malta 2017 held last May, was mainly due to the concept of creating a temporary Artists Village on Gozo, with an artist-in-residence programme offering participating foreign artists and local artists an environment ideal for creative people and a time and space away from their usual environment and obligations.
Art Camp Malta provided a time of reflection, research, presentation and production related to the chosen central theme of the project – Building Bridges of Understanding. The residency programme encouraged individual artists to explore their practices within another community: meeting new people, using new materials and experiencing life in a new location. Besides, through a number of fringe events, like the inter-faith celebration at Ġgantija Temples, the international hands-on culininary night, school and community based outreach events in Malta and Gozo and informal theme related discussion sessions, the Art Camp artist residency programme based on Gozo emphasized the importance of meaningful and multi-layered cultural exchange and immersion into another culture.
Organised by the UNESCO Maltese National Commission and UNESCO Schools (Malta), this cultural programme brought together 23 international artists. One of the three paintings of each artist, painted during the ten-day Art Camp, is currently exhibited at the Casino Notabile in Saqqajja Hill, Rabat.
Casino Notabile is an architectural gem, designed by British architect Webster Paulson and built in 1887. Paulson was the same architect who was commissioned to design and supervise the rebuilding of the Royal Opera House after being gutted by a fierce fire in 1867.
Following years of neglect, the UNESCO exhibition opens the doors once again of this recently restored building. The Imdina Local Council have now appointed an administrative curator of the building, transforming it into a hub of culture and arts through an annual programme of exhibitions, book launches, public lectures and other innovative and unique events.
Art Camp Malta '17 exhibition is open daily between 6pm and 8pm till Friday 28 July, with additional opening times between 10am and noon on Saturday 29 and Sunday 30 July 2017. Free entrance.