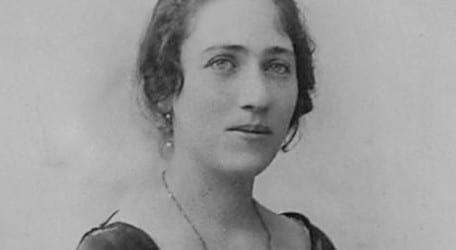 Pictured above: Henriette Chevalier, unsung Maltese heroine
One of the less researched areas of World War II is the contribution women provided in the social, administrative, operational and logistical fields for the Malta's civil and military administration.
World War II researcher Simon Cusens will be delivering an illustrated talk on "The role of women in WWII – the case of Malta", on Friday 24th June 2016, at 7.30pm, at the courtyard of Castello Lanzun, Sanctuary Street, Mensija, San Ġwann.
Organised by the Grand Commandery of the Castello (GCC), a jurisdiction of The Military and Hospitaller Order of Saint Lazarus of Jerusalem, and supported by Palazzo Prince d'Orange in Valletta, the talk is open to the public (advance reservations are recommended). Proceeds will go towards GCC charities, mainly for organisations assisting lepers in India and Uganda.
"The role of women in WWII – the case of Malta", highlights the phenomenal aspects of women's dedication and reliability which have never been pronounced enough. Women's wartime contributions were of utmost significance, extensive and absolutely vital.
Some women stood above the rest, sometimes in Malta or in friendly territories abroad. Others risked their very lives working discreetly in hostile lands, abetting the allies' cause. The author feels honoured to have discovered some unsung heroines, bringing them to the fore and to public knowledge for the first time.
Simon Cusens has conducted research work on wartime women's history for his Master of Arts dissertation within the Institute of Maltese Studies at University of Malta. It is the first academic work on this topic and the author plans to publish his study.
The GCC's charity fund focusses on assisting organisations working for lepers in India, Ethiopia and Uganda. One such organisation is Women in Need in India. Further information about this charity can be found at: http://grandcommanderymalta.org/charity-work
The concert is being supported by the 17th century baroque Palazzo Prince d'Orange www.palazzoprincemalta.com), a newly restored, award winning boutique hotel at 316 St Paul's Street, Valletta, which has also been one of the locations in Malta for the Steven Spielberg's 2005 production "Munich", starring celebrities Daniel Craig and Eric Bana.
Guests are welcome from 7.30pm onwards, and the talk starts at 8.00pm followed by a reception. This is also an occasion to visit Castello Lanzun. To reserve a seat, one can donate a minimum of €15 to the charity fund. Cheques payable to the "Grand Commandery of the Castello", together with name, email and mobile number, are to reach Confrere Alex Azzopardi, 50, Doulton Court nr5, Dun Frangisk Sciberras Str, Mellieha MLH 2027 by Monday 20th June 2016. More info on tel number 9984 1440.