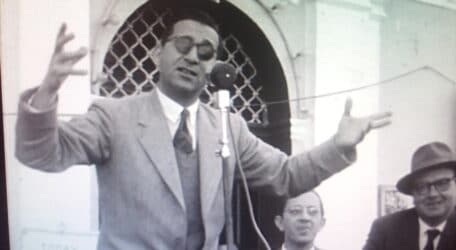 Pictured above: Dom Mintoff during the integration referendum
The Malta Cine Circle was founded in 1952 by a small group of cine enthusiasts who wanted to share their pastime with other fellow film-makers. The 1950s were the years when Hollywood movies were the rage of the time and home movie cameras were becoming less expensive and therefore within reach of several Maltese enthusiasts. The era of the 8mm cine camera had reached Malta.
Through its innovative activities, the Circle soon became quite popular and, as a result, its membership increased year on year.
The first activities organised by the Circle were monthly guest nights where amateur film productions by both Maltese and British amateur film makers were exhibited to packed audiences at the Hotel Phoenicia ballroom in Floriana. These shows were preceded by short newsreels of events which occurred in Malta the previous months.
These newsreels, spanning from 1955 to 1963, now form a significant part of the Circle's archives.
The Malta Cine Circle this year is celebrating its 70th. anniversary and, to honour this landmark event, a series of special shows are being organised featuring the development of film making in Malta throughout the past seven decades.
The first of these shows, entitled 'These Made the News', includes a selection of events from the newsreel archives of the Malta Cine Circle, filmed by Circle members between 1955 and 1963.
In order for these newsreels to be better appreciated by younger generations, Professor Godfrey Pirotta will be giving a brief background of these events. It will be held on Friday 24 June at 7.00 pm at the Malta Marriott Hotel, Balluta Bay, St Julian's.
Entrance is free. For reservations, please call 9946 0866 or e-mail vlm@vol.net.mt