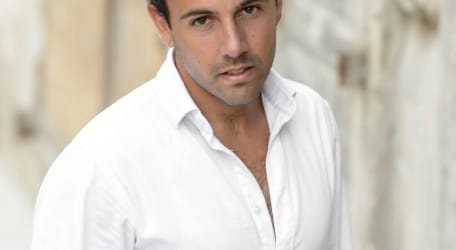 A classical music evening with the Maltese tenor Nico Darmanin is being held on Friday 29th April 2016 at 7.30pm at the Music Room, St James Cavalier in Valletta. Supported by Palazzo Prince D'Orange in Valletta, the Musical Evening is being organised by the Grand Commandery of the Castello (GCC), based in Mensija, San Gwann, which is a jurisdiction of The Military and Hospitaller Order of Saint Lazarus of Jerusalem. The proceeds will go towards organisations assisting lepers in India.
Nico Darmanin, who will be accompanied by Italian painist Leonardo Barilaro, will perform romantic songs and arias by Bellini, Donizetti, Gounod, Mozart, Rossini, Tosti and Verdi, among others.
Nico Darmanin is quickly making a name for himself in the Rossini and Bel Canto repertoires, having already made his debut at the Royal Opera House, Covent Garden. His recent highlights include Almaviva, Il Barbiere di Siviglia (Opera Holland Park); Ramiro, La Cenerentola (Scottish Opera); Ottavio, Don Giovanni (Vlaamse Opera); and Belfiore, Il viaggio a Reims at the Rossini Opera Festival in Pesaro.
Pianist Leonardo Barilaro graduated from the Conservatory of Padua. He also graduated with a PhD in Sciences, Technologies and Measurements for Space (STMS) at the University of Padua. His most important project in these last years was the 'Pas de Deux dance & piano duo'. Barilaro performed in Italy, Germany, England, Sweden and the Netherlands, among others.
The GCC's charity fund focusses on assisting organisations working for lepers in India and Ethiopia. One such organisation is Women in Need. Further information about this charity can be found on: http://grandcommanderymalta.org/charity-work
The concert is being supported by the 17th century baroque Palazzo Prince d'Orange (www.palazzoprincemalta.com), a newly restored award winning boutique hotel in St Paul's Street, Valletta, which has also been one of the many locations in Malta for the Steven Spielberg's 2005 production Munich, starring celebrities Daniel Craig and Eric Bana.
There will be a pre-concert drink at 7.30pm, while the 40-minute recital starts at 8.00pm followed by a reception. To reserve a seat, one can donate a minimum of €25 to the charity fund. Cheques payable to the "Grand Commandery of the Castello", together with name, email and mobile number, are to reach Confrere Alex Azzopardi, 50, Doulton Court nr5, Dun Francesco Sciberras Str, Mellieha MLĦ 2027 by Tuesday 26th April 2016. More info on tel number 9984 1440.