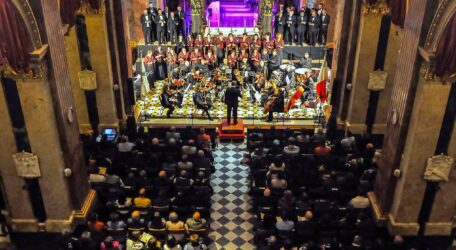 The final event, part of the Feel the Magic three-year project, is Feel the Magic of Christmas, the annual Chorus Urbanus Christmas concert that is now in its 24th edition. The 75-minute concert is being held at the Astra Theatre in Victoria on 19 December at 8 p.m.
The concert consists of traditional Christmas songs and carols including 'Let it Snow' and 'Rudolph the Red Nosed Reindeer'. The Chorus Urbanus Festive Orchestra, made up of 22 elements, is conducted by Mro John Galea. Apart from the Chorus Urbanus choir, made up of 38-40 singers, there is also the Chorus Urbanus Junior Choir, made up of 30 kids aged six to 14.
Mro Galea said the entire Chorus Urbanus ensemble is looking forward to this concert since it is the first time in two years that they can perform this concert before a live audience and the local community very much looks forward to this regular annual engagement.
Entrance to the concert is free but, due to the limited seating capacity, tickets should be booked without delay by accessing this link: https://bit.ly/3rTowr6.
You will need to select Register and place your order for the number of tickets requested and will receive the tickets via e-mail.
The Chorus Urbanus is holding another Christmas concert, Nativitas Domini, at Xaghra Basilica on 27 December at 7.30 p.m. Entrance is free, but you also need to book by accessing this link: https://bit.ly/3rPgQGx. Seating is limited so don't delay.
Feel the Magic 2019-2021 is generously sponsored by the Gozo Cultural Support Programme, Ministry for Gozo, Arts Council Malta and Teatru Astra.