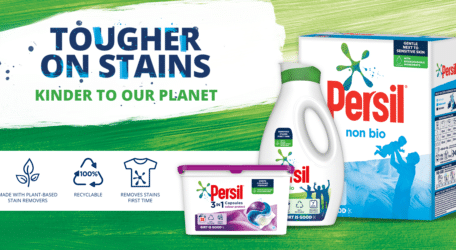 Global household brand Persil commits to their promise of sustainability throughout their product range, its production, packaging, and ingredients.
Persil's global promise to be "Tough on stains. Kinder to the planet", seeks to renew their pledge to the planet, ensuring that their family of powders, liquids and capsules are better for the planet without making compromises on the quality of their products.
Persil products are already made of 90% biodegradable ingredients and the brand has committed to increasing this to 100%. With rigorous testing and safety assessments, the brand continues to research and challenge their products and packaging to make sure they are tackling tough stains while having as little impact on the planet as possible.
A spokesperson for Persil Malta explained that "We're all growing more concerned about sustainability. So we're looking closely at where our ingredients come from and questioning our production methods, improving our products, inspiring the people who use them whilst protecting our planet."
By 2023, Persil hope to achieve a deforestation-free supply chain. By 2025, they want to half the use of virgin plastics. By 2030, they want to eliminate the use of fossil fuels. By 2039, Persil want to ensure sure they have net-zero carbon emissions from all their products from cradle to shelf.
Persil have also taken a stand on ending animal testing. For the past 10 years the brand has invested heavily in assessing the safety of their products without animal testing, using scientific tools instead to assess the safety of each product. In fact, in 2019 Persil received the Corporate Consciousness Award from the Humane Society of the United States for over 30 years of global leadership to end animal testing for assessing product safety.
The brand also takes a proactive approach to sustainability by campaigning for regulatory change to eliminate the requirement for animal testing altogether.
Unilever have corporate social responsibility and sustainable living at the heart of the organisation and seek to drive positive change through their business, brands and partners.
For more information visit https://www.persil.com/uk/our-commitments.html