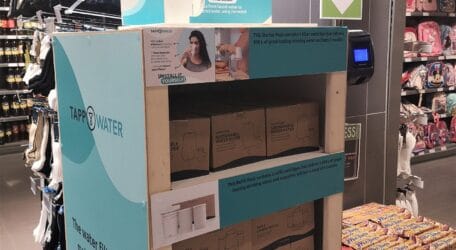 As from this week, TAPP Water filters are now available at Greens supermarket in Ta' l-Ibraġ, further widening the distribution network and giving clients the opportunity to install their own water filters at home or at the office.
Malta still has a high reliance on plastic bottles for drinking water. According to figures from Eurostat, only 35% of all plastic bottles go to recycling channels; the rest remains unrecycled. In Malta, it is even worse. According to the Environment Resources Authority (ERA), only around 10% of all plastic collected is recycled.
By installing a TAPP Water filter into your household or office, you are removing at least 700 plastic bottles per year from the local ecosystem, emitting 156 kg less of CO2 and saving €312. Although local tap water meets all EU and WHO standards, and is actually quite good, a high proportion of Maltese households prefer bottled water.
TAPP Water, founded in Barcelona, Spain, has spent the past seven years working on better alternatives for bottled water for southern Europe and now distributes its products in over 30 countries, including Malta. The main focus is to provide great tasting water and to improve the perception by ensuring that common contaminants from old pipes are filtered.
Before TAPP Water introduced its solution for filtered water last year, the only alternatives were more expensive reverse osmosis and ceramic under-sink filters. Now, the TAPP 2 Twist, which is an easy-to-install water filter that attaches directly to the tap, provides clean, tasty drinking water all year around. As an added advantage, it also prevents limescale from forming in coffee machines, kettles and kitchenware.
Greens have opted to give their clients the opportunity to buy TAPP Water filters as part of their social responsibility effort to reduce plastic waste and climate change impact. A spokesman for Greens supermarkets said: "We were impressed with the simplicity and effectiveness of this eco-friendly device and wish to make it available to our shoppers."
TAPP Water (Malta) Ltd CEO Phil Richards added: "We are extremely pleased that our water filters now have a hugely increased audience – the clients of Greens supermarkets – and we look forward to increasing our ever-growing client base as a result."