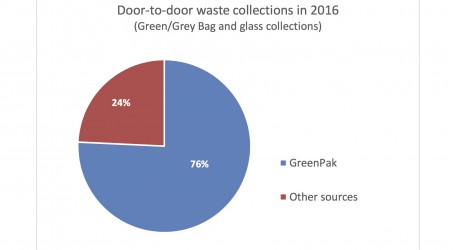 An encouraging upward trend in the recycling habits of the Maltese is finally emerging and the door-to-door collections of the green bag and glass bottles has shot up by 14 per cent last year over 2016, according to GreenPak's figures.
This confirms a year-on-year increase and comes of the back of National Statistics Office figures released this week showing a 15 per cent rise in households' use of the green/grey bag for recycling in 2015.
"After a few disheartening years, we are finally starting to reap the results of years of hard work. We've still got a way to go before we can rank as the best performing country in Europe when it comes to waste avoidance and recycling, but it's a start," GreenPak CEO Mario Schembri said.
The cooperative — the biggest collector of recycled waste on the island, covering close to 70 per cent of local councils — issued a statement that built of the figures released by the NSO.
According to the NSO, a total of 17,113 tonnes of recyclable waste was collected through the green/grey bag and glass collection from households in 2016; the majority (12,963 tonnes) of which was collected by GreenPak.
The cooperative went a step further to release figures for 2017, that again registered a further increase of nearly 2,000 tonnes — up to 14,754 tonnes.
However, Mr Schembri pointed out that contrary to NSO figures, GreenPak's data was showing a marked increase in the waste collection from bring-in sites — 2,266 tonnes in 2017, compared to 2,071 tonnes it had collected the previous year.
"We are attributing this increase in our figures to GreenPak's focus on ensuring we fulfil our clients' goals and recover as much of the packaging they put on the market as possible," he said.
Mr Schembri also felt that GreenPak's latest campaigns — such as Crush & Win, where €100 a day are won by those who recycle plastic containers in bring-in sites — were leading to a spike in their figures.
"We're on the right path. But every individual has to realise they have a role to play in protecting our environment and I hope we can start moving in the direction where we eventually minimise the amount of waste we throw in the black bag," he said.