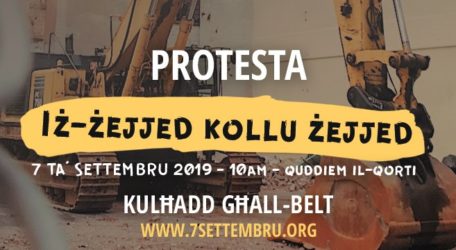 The Protest

Enough is Enough: We're off to Valletta is a national protest free from partisan politics aiming to bring together residents, workers, farmers, students and organisations who are fed up of excessive and haphazard construction so as to make their voices heard in opposition to the madness that is consuming our country. We believe that together we can change this situation and fight the excessive power of the few who treat Malta as their own patch of land through which they can speculate and make profits.

Groups Registering Their Participation

All formal and informal associations from Malta and Gozo may register their participation by contacting us on

[email protected]

or by filling in the online form on the website www.7settembru.org. These groups will thus commit themselves to participate and promote this protest. Groups such as NGOs, resident associations, student groups, workers' associations and farmers are welcome to join, as long as their aims and principles conform with the demands we will be making during this protest. Groups affiliated with political parties will be turned down.

The Demands

The protest will be making six demands related to:
i) Planning Policies
ii) Authorities Responsible for the Environment and Planning
iii) Large-Scale Projects
iv) The Regulation of the Construction Industry
v) Roads and Transportation
vi) Respect for our Planet, our Country and Ourselves

Views the demands here.