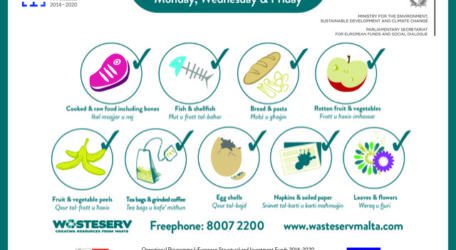 With little more than a week to go until the collection of source separated organic waste comes into effect across all Malta on 31 October, Wasteserv is encouraged by the significant increase in public interest in the new arrangements.
As a result, Wasteserv is also temporarily increasing the hours during which its Customer Care freephone service  8007 2200  is available. In fact, this service will now also be available on Saturdays and Sundays from 7.30am to 5.30pm. The public is also invited to send any questions or comments via Wasteserv's Facebook page.
Among the most frequent queries being received are questions regarding the distribution of bins, enforcement of the new arrangements, how the separated waste will be used, and what exactly should be included with organic waste in the white bags.
With regards to bins, distribution is continuing with more than 60 per cent of households in Malta and Gozo now in possession of a bin. Those who have not yet received theirs can find updates on their particular locality on Wasteserv's Facebook page. The purpose of these bins is to facilitate the separation of waste at home. The bins are not, however, meant to be taken out on the kerbside. In fact, only the white bags for organic waste should be left outside. Any household which, for some reason, remains without a bin should therefore still begin separating organic waste in any white bag as from 31 October.
At this stage, Wasteserv is committed to focusing on generating more awareness among the public on how to separate organic waste properly. This will be supported by a monitoring exercise which will take place during the collection itself.  Members of the public who leave the wrong bag on the kerbside will in fact also have a sticker with information about the new arrangements attached to the bag that will be left uncollected on the day.
The organic waste collected will be sent to Sant' Antnin Waste Treatment Plant where, among other processes, it has the potential to be transformed into a material similar to compost, depending on the volumes of separated waste generated by the public.. During the treatment of the waste, energy will also be produced allowing Wasteserv to increase its existing supply to heat the therapeutic swimming pool at the Inspire Foundation.
On the subject of which items can be included in organic waste collections, Wasteserv would like to reiterate that this includes all cooked and raw food including bones, fish and shellfish, bread and pasta, rotten fruit and vegetables, fruit and vegetable peels, tea bags and ground coffee, egg shells, napkins and soiled papers, leaves and flowers. More information can be found on www.wasteservmalta.com.