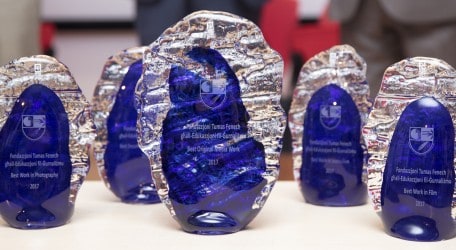 Students attending the MCAST Institute for the Creative Arts were in for a surprise when during their end-of-year event they were informed that, for the first time ever, they were going to be presented with awards, sponsored by the Tumas Fenech Foundation for Education in Journalism (FTFEĠ).
The awards were deliberately kept a secret – and this was evident from the comments from those receiving the awards: a mixture of amazement and satisfaction that their hard work throughout the year was been rewarded.
Tyrone Grima, Director of the Institute for the Creative Arts, explained that the awards were the FTFEĠ's idea. After the BA (Hons) degree course in Journalism was launched during this academic year that has drawn to a close, the Foundation approached the ICA to create an award for the best work in journalism.
Yet these students attend the common core programme in their first year with both students of Creative Media and Photography, so it was a natural choice to extend the awards to also include these areas: photography, documentary film making, fiction film making and best original work in media. It is in their second and third year that the journalism students will start specialising in various areas of journalism.
Mr Grima announced that work is in an advanced stage for the Institute to open a Journalism Studio by the start of the coming scholastic year in October. Facilities will include full access to state-of-the-art TV and radio recording facilities, geared up with latest industry-related software and hardware used in the media industry, as well as a fully dedicated location where students can plan, develop, produce and broadcast media content.
This is all part of the preparations for a programme of this nature for which many meetings over several months were held in the run-up to the launch during which the course philosophy was built, the units identified, and the resources secured, with work still ongoing.
President Emeritus Dr Ugo Mifsud Bonnici, Chairman of the Tumas Fenech Foundation for Education in Journalism, urged the students to develop their talent and their individual style. "You were using the phrase 'finding yourself'. In fact, each one of us, in the work we do, starts forming himself/herself and this is where these courses and experiences get you," he said.
Dr Mifsud Bonnici augured that the new degree course in Journalism would bring about beneficial change to the country, "that is, that the journalism both of the written media but of all other media, will be better prepared tomorrow and journalists will come out of their shells – because the importance here is what you are yourself, to develop your own identity, to be original in your work."
He also urged the students to "learn from others but teach yourselves to bring out your own talent. Every one of us in here has a special talent. We have to help it to emerge. You have to work at developing your talent bit by bit."
Members of the FTFEĠ Board and two award winners of the Malta Journalism Awards, Keith Demicoli and Darrin Zammit Lupi, then presented the five awards. President Emeritus Mifsud Bonnici presented the Best Original Work in Media award to Amadeo Bezzina, who commented: "If you believe in something, go ahead and do it, as long as you believe in yourself. Always be creative and try to be different."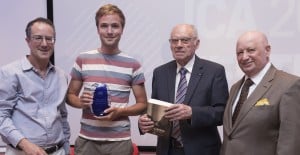 FTFEĠ Deputy Chairman Ambassador Anthony De Bono presented the Best Documentary Film Making (TV film) award to Nigel Fleri Soler (in absentia). FTFEĠ Hon. Secretary Malcolm J. Naudi presented the Best Work in Film (Fiction) award to James Caselli who commented: "I am really happy that whoever judged it liked it and appreciated it. It was a lot of work with zero budget. It was really hard but we managed and I am happy it is of a certain quality that I am happy with and other people are happy with."
Darrin Zammit Lupi presented the Best Work in Photography award to Maria Xuereb, who commented: "This was totally unexpected. In the past three years, we have worked with passion and we are now ready for the world of work. So thank-you. It was an opportunity that is going to help us a great deal."
Keith Demicoli presented the Best Work in Journalism award to Mary Claire Simiana, who commented: "I thank my lecturers who always were of great help. I came here not knowing many things about the media. However, through trial and error and a push from the teachers, you learn to trust yourself more and believe more in yourself so that in the end the work will be more professional."
Apart from receiving specially inscribed trophies, the students also received a copy of the book on President Emeritus Dr Mifsud Bonnici's father, Dr Carmelo Mifsud Bonnici Il-Gross.