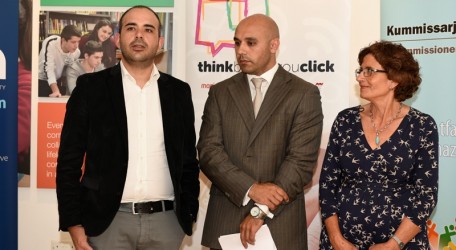 Pictured above: Arthur Caruana, Mark Spiteri and Pauline Miceli
'Think Before You Click', a 20-week awareness campaign designed to empower children, parents and carers to protect themselves against the risks they may encounter on digital and social media platforms, was launched this morning.
The campaign is driven by Magic Malta with the support of MSV Life, Malta's largest life insurer, in collaboration with The Office of Commissioner for Children and the BeSmartOnline! project, which is managed by the Malta Communications Authority (MCA).
"The campaign will be targeting parents and carers and will be reinforcing messages on how young internet users can make the best use of the new technologies and navigate their way on the web fully aware of the risks and dangers which may not be so obvious to them," said Commissioner for Children Pauline Miceli. "The campaign's aim is to provide parents and carers with sufficient knowledge which will empower them to feel confident in guiding their children to be safe online."
Mark Spiteri, Senior Project Coordinator at the MCA, said: "The MCA, together with The Office of Commissioner for Children, the Foundation for Social Welfare Services and the Directorate for Quality and Standards in Education, has been working in the field of eSafety for the past six years. It is heartening for us to see other entities recognising the importance of online safety and inviting us to collaborate. Such efforts serve to continue engaging with the public, reach new audiences and strengthen our message in this regard. We encourage other entities to follow suit. Education and awareness are key to ensuring a positive online experience."
Magic Malta's Arthur Caruana commented that as part of the public broadcaster's portfolio, Magic Malta assumed the responsibility to team up with MSV Life, The Office of Commissioner for Children and BeSmartOnline! to run such a campaign since the digital realm is almost taking over reality, especially among children and young people, particularly if they feel isolated or misunderstood. "It is crucial that everyone understands that behind a screen or a digital profile there might be an unknown world which could compromise your wellbeing and of those around you."
'Think Before You Click''s main messages are also to refrain from being hurtful in messages posted online, to report cyberbullying, to be aware that what is uploaded remains in the public domain forever and may be abused to harm the person or others. A person's digital footprint also determines their public profile based on information available on the internet.
With peer pressure being a weak point among young people, 'Think Before You Click' also encourages internet users to say 'no' when asked to carry out something on the internet and not to feel bad or intimidated to stop a chat thread or refuse a friend request from someone unknown. Equally dangerous are false profiles showing they share friends in common to be more convincing in being trustworthy.
To avoid cyberbullying, it is advised to keep personal information, such as phone number and email address, private, familiarise yourself with privacy settings and make proper use of them. If you become a victim of this form of abuse, it is strongly recommended not to retaliate, but to stop communicating with the person, keep a record of all the instances of abuse including copies of emails and messages as content can be taken down and inform at once the authorities concerned.
If you need to talk to someone about online safety you can call the Helpline 179, send an email to [email protected] , or visit www.besmartonline.org.mt.
For more information about the campaign and its content, log on thinkbeforeyouclick.eu.