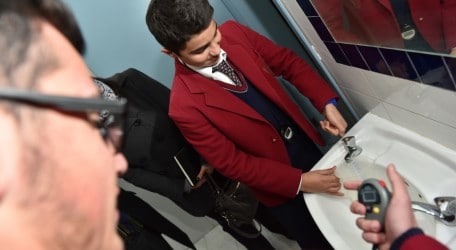 Students from the St Michael Foundation demonstrate the efficiency of a push water-tap compared to the conventional faucet in the restrooms at the unveiling of 18 new taps at their school.
The switch to water-saving taps was made after a group of four students, led by their environmental studies teacher Michelle Camilleri, submitted the proposal to the HSBC Water Programme – Catch the Drop to replace all water taps in the school. Environmental education is a cornerstone in the curriculum at St Michael Foundation. Students are encouraged to come up with ideas about how they can contribute to respect the environment and safeguard it.
During the unveiling of the newly installed taps, Head of School Alfred Sant Fournier welcomed HSBC Malta's Corporate Sustainability team, as well as the Deputy Head of HSBC Group Corporate Sustainability, Francis Sullivan. Mr Sant Fournier noted that following the successful test of the new taps, 44 more will be requested from the HSBC Water Programme – Catch the Drop.