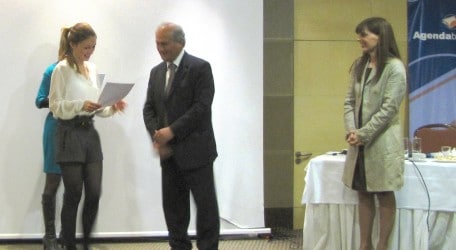 Pictured above: Jessica Xuereb from St Edward's College with ESU Treasurer Mario P. Galea and Assistant Director of Education Yvette Micallef (on right). Behind Jessica is the Director of Education Giuliana Fenech
The English-Speaking Union of Malta recently held its Public Speaking Competition at Le Méridien, St Julian's, following an intense three-day Academy that tutored 24 post-secondary students in the skills required for effective oration. This was done through interactive workshops and one-to-one training.
The 15 participants all gave a three-minute talk on the theme 'A House Divided Against Itself Cannot Stand'. They took various slants to the topic. Some explored the setting in which the original phrase was coined, while others looked at various forms of division, such as marital separation, civil wars, the fight for the environment, racism, alcoholism and inner conflict.
After a long deliberation, judges Giuliana Fenech, Dr Robert Cachia and Lou Ghirlando announced the first three winners. St Edward's Sixth Form student, Soufian Hagul, with his speech entitled, 'Time Heals all Wounds', was placed third; St Aloysius student, Naomi Bugre with her speech, 'Beyond Colour to Real World Challenges' came second and the winning speech, entitled, 'Why do we Stand Alone, when we can Stand All Together?' was created and delivered by St Edward's student Jessica Xuereb.
Jessica is now being tutored by ESU Malta's Assistant Director of Education, Yvette Micallef, in preparation for her speech at the International Public Speaking Competition in London, to be held between 13 and 17 May. She will compete against ESU Public Speaking Competition winners from over 50 countries worldwide.
ESU's 2014 Public Speaking Academy in preparation for the coming year's competition will be held in January and is open to all post-secondary students. Contact Yvette Micallef on [email protected] for more information or to book a place.