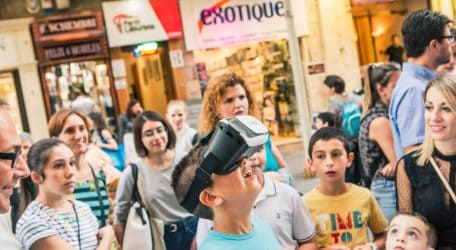 Malta' Science and Arts festival, Science in the City, returns to Valletta on Friday 28 September 2018 from 6pm till midnight. This year's message is a simple one – everyone starts at zero. We are born with practically no knowledge of the world around us but we all can and do learn, especially when the lesson is delivered in a creative and fun way.
To mark the European Year of Cultural Heritage and Valletta's European Capital of Culture celebrations, the theme for 2018 is Science is Culture. The aim is to highlight how science shapes all aspects of culture, from communication to the different art forms, health, food and of course technology.
As always, the festival's programme will feature a wide variety of free activities ranging from art installations to exhibitions, science theatre, shadow puppetry, science film festivals to music, street art to live experiments, all related to science and research.
Science in the City, is working with the Valletta 2018 Foundation to feature new larger than life interactive installations. This specific project is a collaboration between Maltese and Viennese scientists and artists and will see both physical and virtual art forms work together to entertain and educate. One installation in particular is a giant computer mouse that will need to be pushed around by visitors. This mouse is complemented by high tech enlarged virtual artworks.
The European Commission ranked SitC 7th among the 128 European Researchers' Night proposals submitted back in February 2018. Science in the City has truly become one of Malta's major cultural events, well patronised by Maltese and foreign visitors. The festival is growing and this year activities will spill out into the Triton Fountain square, pass through City Gate, line the length of Republic Street all the way up to St. George's Square and other centrally located venues in Valletta.
Held annually as part of a larger Pan European Initiative, European Researchers' Night is supported by EU's Horizon 2020 and GSD Marketing Ltd. Science in the City is coordinated by the University of Malta, the Malta Chamber of Scientists, in partnership with the University's Research Trust (RIDT). 2018 edition is being held in collaboration with Valletta 2018 Foundation, and several other partners.