As part of its battery recycling drive on a national basis, GreenPak is working closely with various supermarkets to raise awareness and recover more used and unwanted batteries. A number of leading supermarkets are now participating in GreenPak's BATREE campaign to promote the correct disposal of used batteries for recycling.
The BATREE campaign is being carried out at Scotts Supermarkets in Attard, B'Kara, Burmarrad, Naxxar, Santa Lucija, Sliema, St Julians & Zabbar; Lasco Supermarket in Zejtun; PAVI & PAMA Supermarkets in Qormi and Mosta; Chain Supermarkets in Zabbar and Fgura; Green's Supermarket in Swieqi; Tower Supermarket in Sliema; Valyou Supermarket in Naxxar; and Smart Supermarket in B'Kara.
At these supermarkets, members of the GreenPak team are informing the public on the proper disposal of used batteries in BATREE bins at the outlet. Gifts for children of all ages are also being given away at these promotion points.
Duracell is supporting this campaign and is giving away discount vouchers on new Duracell purchases at these supermarkets. The BATREE supermarket campaign runs until end of September 2017.
"Over 2 million batteries are imported in Malta each year. As the country has to reach the EU's collection targets of 45%, this calendar year (2017) is being considered as a crucial year for achieving the recycling targets for batteries. The public is strongly encouraged to recycle batteries correctly by depositing them in the specifically designated BATREE bins and not dispose of them in the black bags to end in the landfills," explained Daniel Tabone, Operations Manager at GreenPak Coop Society.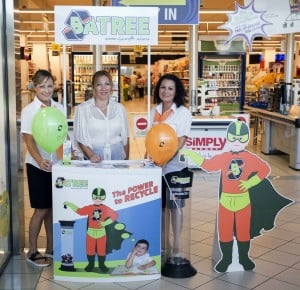 "We are trying to make it as easy as possible for consumers to properly dispose of their old batteries they are using at home or office, by dropping them in battery bins at their local shop. If not disposed properly, used batteries harm the environment" added Mr Tabone.
All portable batteries, including rechargeable batteries used for handheld devices, such as portable lights, radios, cordless phones and remote controls, from 9 volts down to button batteries used for watches and clocks, can be deposited in the BATREE bins.
Run by GreenPak, BATREE is a nationwide battery recycling initiative with many BATREE bins available across Malta and Gozo in Local Councils, schools, stationeries and supermarkets.
Outlets and organisations wishing to be part of this national effort to collect used batteries for recycling can contact GreenPak on tel: 21660233, or visit  www.greenpak.com.mt