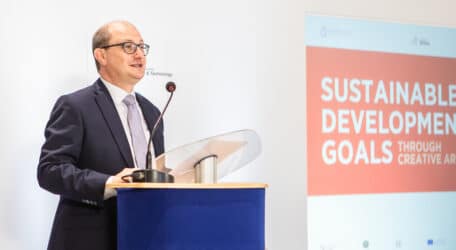 Esplora Interactive Science Centre, in collaboration with Lignin Stories, Spazju Kreattiv, and the University of Malta, hosted a half-day seminar on Creativity and Sustainable Development Goals, at the EsploraPlanetarium Hall, on Tuesday 16th November 2021. The results of the Erasmus+ project entitled 'Embracing the Sustainable Development Goals through Creative Arts', were disseminated during this seminar.
The project's main aim was to bring about innovation and raise more awareness about the Sustainable Development Goals (SDGs) by using three creative Arts disciplines; Dance, Storytelling and Digital Games. Aimed at enhancing creativity in creative young practioners and VET teachers, the project partners developed resource packs using these aforementioned disciplines whilst focusing on three SDGs, namely Quality Education, Gender Equality and Life Below Water.
The three year project was held in collaboration with four other organizations picapipe GmbH- Austria, Copernicus Science Centre- Poland, OFF Foundation/Hodworks- Hungary, and the Seven Stories- United Kingdom received Eur379,166 in funds.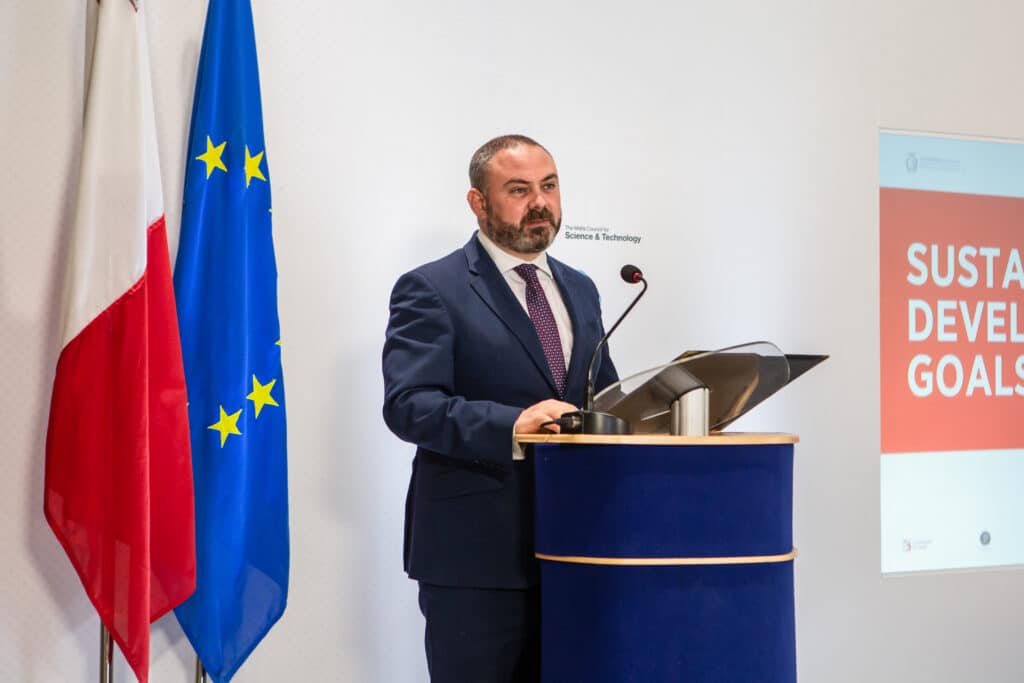 The Hon. Owen Bonnici, Minister for Equality, Research and Innovation said: "This is a historic agenda with far-reaching implications. It is accepted by all countries and applies to everyone, taking into account various national realities, capacities, and levels of development, as well as national strategies and priorities. These are universal goals and ambitions that apply to the entire world, including both developed and developing nations."
Minister Bonnici also thanked Erasmus+ and Esplora Interactive Science Centre for co-ordinating this project and all the participants for their commitment to finding innovative ways to engage our young ones and equip them with the skills required to take care of the environment and each other, and hopefully do a better job than previous generations.
The Parliamentary Secretary for EU Funds, the Hon. Stefan Zrinzo Azzopardi stated in his speech "that this project, coordinated by Esplora, addresses the United Nations 2030 Sustainable Development Goals as it aims to raise awareness of global issues through creative arts. Embracing the Sustainable Development Goals through Creative Arts' (C-SDGs), is another programme co-funded by the Erasmus+ Programme of the European Union."
Dr Zrinzo Azzopardi further explained that this project aspires to create a unique way of how students, educators, and the general public, can learn more about these goals which the Member States are working towards achieving by 2030. The Parliamentary Secretary ended his speech by affirming that such a project would not be fulfilled if it had to be held in one country as the different experiences, competencies, traditions, and mentalities from different EU countries are a key asset to the realisation of this project.
The resource packs incorporate; digital games which can be used for Game-based learning in relation to the three SDGs identified. The various digital games encompass backgrounds from the project countries themselves. Another resource pack focuses on the art of dance. Through choreographic scores, games, and other creative tasks this resource pack raises awareness on two goals; Gender Equality and Quality Education, including a video of an original dance performance on the SDGs identified. The third and last creative art is storytelling. This educational resource pack includes numerous methods of storytelling that have contemporary relevance to local, environmental, and personal issues deemed important to young people. In addition, it also comprises stories with contemporary social relevance, including those driven by and seeking to tackle gender inequality, as well as a virtual compendium for storytelling.
All the resources are aimed at different age groups, starting from primary to post-secondary school students. The educational resources may be freely downloaded through the project website: http://www.csdg.eu