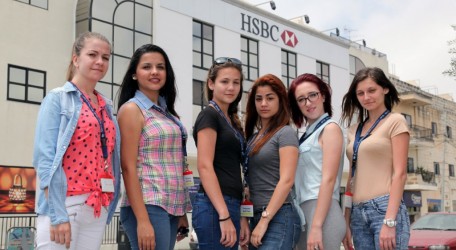 A group of six students from the Malta College of Arts, Science & Technology (MCAST) are undergoing a rigorous programme of apprenticeship at the HSBC UK Contact Centre Malta (HBEU), the largest contact centre on the island.
The two-year long apprenticeship programme, which bridges the gap between education and employment, kicked off on 22nd June and will end on 9th October after sixteen rigorous weeks, during which the students will have been trained on the art of excellent customer services. The group will then return to HBEU three more times for additional mentoring which would last for four, three, and thirteen weeks, respectively.
The participating students are enrolled in Advanced Diploma in Financial Services from MCAST's Institute of Business and Commerce.
HBEU Recruitment Manager Rebecca Durke said: "As an industry leader in Malta, HSBC UK Contact Centre Malta is committed to creating a well-qualified workforce that can fuel the growth of the sector as well as of the Maltese economy. We are realising this ambition by offering a range of world-class training and learning opportunities."
At the end of the programme, qualified students are likely to receive full-time employment offers at HBEU, which is known for its informal yet supportive workplace atmosphere. The various support services for staff at HBEU include a concierge service, in-house gym, childcare subsidies, onsite medical health checks, and private healthcare, among others.
Established in 2006, the Centre has grown through the years with more than 450 employees now assisting UK customers. The centre has expanded its call types now also covering many different query types.
Exciting opportunities exist to join HSBC UK Call Centre Malta and be part of a great team. More information about these can be had at www.hsbc.com.mt/careers. An age neutral CV can be forwarded to [email protected]