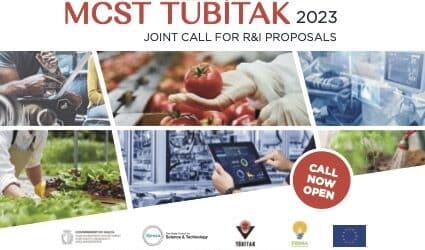 The Malta Council for Science and Technology (MCST) and the Scientific and Technological Research Council of Turkey (TÜBİTAK) have jointly launched a 3rd Joint Call for the funding of R&I proposals in the following thematic areas: Water Management; Sustainable Farming Systems; Agro-food Value Chain; Digital Technologies; Smart Manufacturing; and Health.
This one-stage call will support a wide variety of stakeholders, including those hailing from the private and public sectors, to collaborate with at least one Turkey-based entity, and to jointly submit a R&I project proposal that addresses one of the thematic areas.
As of this year, MCST has increased its budget to EUR 300 000, which is being matched by the TÜBİTAK contribution, resulting in a total call budget of EUR 600 000. Thus, MCST will be in a position to support at least three projects of up to EUR 100 000 each. Similarly, the Turkish partners in these project consortia will be supported through funding by TÜBİTAK.
The first three are aligned to the scope of the Partnership for Research & Innovation in the Mediterranean Area (PRIMA), which main objectives are to address climate change, water scarcity and food security in the Mediterranean Area. The latter three thematic areas are amongst the six priority areas listed in Malta's Smart Specialisation Strategy for the period 2021-2027, established as the Government's clear priorities for investment in innovation over the coming years, owing to their potential for growth.
MCST will be organising an online information session on the 17th of March 2023 at 10 am CET. Interested applicants may register their interest to follow this session here, and can obtain further information by contacting the Call managers by email at: prima.mcst@gov.mt
Further information can be found on the MCST webpage.