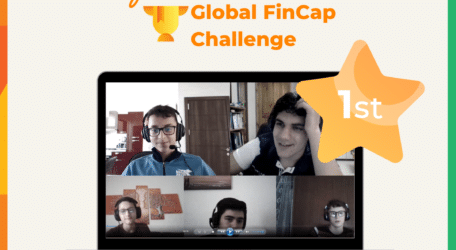 The Buddies team from St. Albert the Great College in Malta took the top prize in the Global FinCap Challenge, an international competition developed by Junior Achievement (JA) Worldwide and the HSBC Group. The Maltese team emerged victorious in the pilot event in which 13 countries participated, finishing ahead of INJAZ Egypt and JA Malaysia.
The Saving Buddy Tool, developed by the Maltese team, helps teach students the best savings strategy for various financial decisions they may encounter in life. The Buddies also incorporated an automated mobile or landline service to assure everyone has access to The Saving Buddy Tool.
Simon Vaughan Johnson, Chief Executive Officer at HSBC Bank Malta p.l.c., said: "Many congratulations to the Buddies team from St Albert the Great College! The Saving Buddy Tool addresses practical issues that many people of different ages face when making savings decisions, while at the same time assisting people who may not have access to the internet. HSBC has been a supporter of JA both in Malta and around the world for decades and its fantastic to see young people successfully creating new ideas that have real value. Hopefully the Global FinCap Challenge will continue to grow and we will see continued Maltese success in future competitions."
Fiona Captur, Chief Executive Officer at the JAYE Malta Foundation: "We are delighted that our team from St. Albert the Great, Valletta has put Malta on the JA map as the first ever to win the Global FinCap Challenge. We are looking forward to seeing this competition become an annual challenge and a key part of our ongoing efforts to provide financial and business skills to the students who take part in our programmes. Once again we would like to thank HSBC for the support they give to JA Worldwide and to the JAYE Malta Foundation, which enables us to deliver a wide range of experiences to children and young people throughout their school and post secondary education."
Teams of students aged 12-16 competed in this intensive financial-capability challenge, which has seen the first-ever such event requiring creativity, knowledge, teamwork and a lot of passion. Students had to address business and community-related problems and challenges, which helped develop their idea-generation skills and collaboration techniques.