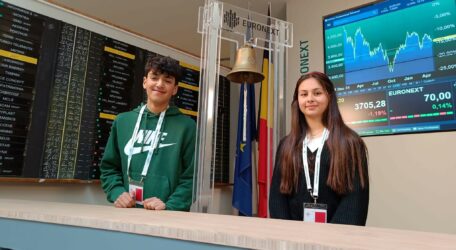 The financial skills and knowledge of Maltese teenage students were tested once more during the 2023 European Money Quiz (EMQ), organised by the European Banking Federation (EBF), and held on 16 May 2023 in a physical format at the EBF's premises in Brussels. Fourteen-year olds Avril Jane Scicluna and Jacob Camilleri were the two Maltese students who represented Malta at the EMQ.
Avril Jane attends Our Lady Immaculate Secondary School, while Jacob attends St Augustine College – secondary school. Both students represented Malta in this event after winning an online national competition held amongst secondary school students from state, church, and private schools. In preparation for the EBF's EMQ, the national competition was organised by the Malta Bankers' Association (MBA) in February this year, in collaboration with staff within the Directorate for Learning and Assessment Programmes (DLAP), Department for Curriculum, Research, Innovation and Lifelong Learning, including Ms Joanne Zammit, who is the Education Officer for Accounting, Business Studies.
EMQ is Europe's biggest financial literacy competition for 13 to 15-year-old students, attracting up to a million plays annually in up to 28 European countries via the Kahoot! platform. Launched alongside the European Money Week (EMW) campaign in 2017, the EMQ is part of the EBF's financial literacy initiatives, casting a spotlight on the importance of financial education for young people to lead a better and more secure life.
Avril Jane and Jacob, alongside the respective participants from the other countries, had to answer 20 questions on financial skills which were aligned with the OECD/INFE guidelines and core competencies on financial literacy for the youth, including questions on sustainability, online scams, budgeting, as well as cryptocurrencies.
Avril Jane and Jacob also visited WikiFin Lab and Euronext, amongst other activities organised by the EBF for the EMQ participants.
MBA's Secretary General Karol Gabarretta thanked Malta's representatives for their efforts and augured that they found that their international experience an insightful and fulfilling one.
Malta's participation in the EMQ is part of the European Money Week events held every year. This year was the ninth consecutive year that the MBA organised a series of events and activities in Malta in conjunction with EMW, which was held in March. EMW focused on financial education and raised awareness amongst students about money and personal finances.