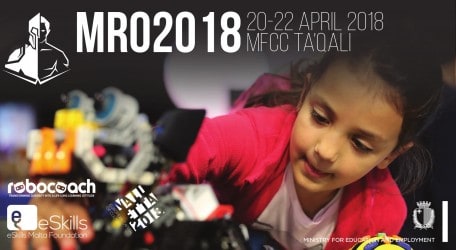 The Malta Robotics Olympiad 2018, Malta's largest technology event, is inviting schools and hobbyists to test their skills in one of this year's three main challenges – CodesprintMT, Lego Sumo and DIY Bots. Taking place between Friday 20th and Sunday 22nd April 2018 at the MFCC in Ta' Qali, this year's event is set to be the largest and most exciting edition yet with a range of competitions, workshops, and presentations for all the family.
Always seeking to create new opportunities for experimentation, this year's MRO 2018 will be introducing its newest challenge, the DIY BOTS – The Robot Design and Make Challenge. The DIY BOTS Challenge is divided into three categories. Depending on the category the challenge will be open for teams aged between 8 to 16 years old. Help from educators, mentors, friends, guardians and family members is allowed and encouraged as to enrich the quality learning experience.
The idea behind the DIY BOTS challenge is to dig for new talent in the area of design, technology and robotics engineering. Moreover many people like to create innovative contraptions which are hardly recognised as educational success so this is the ideal opportunity to organise a robotic weekend project with friends, family members and schoolmates and get recognised. Participation is free and every successfully submitted project will be awarded.
The second main event is the CodeSprint Challenge in Malta open to all schools. This will consist of a four hour coding challenges featuring five challenges that put Computing students' problem solving and coding skills to the test. Participants will be presented with a series of JAVA tasks and timed according to the level of difficulty. Participants will be carrying out the tasks on an individual basis and submit their solution to the judges at the end of every task. A judging panel will give points to the work presented to them according to established scoring criteria.
The Lego Sumo competition requires no introduction having registered a phenomenal success with students in the past MRO editions. This competition is open for students in Middle and Secondary Schools in Form 1, 2, 3, 4 and 5 from State, Church and Independent Schools.
Mr James Catania, Education Officer ICT at the Ministry for Education and Employment said: "MRO is all about young students stepping up and trying something they haven't tried before. By participating, students gain confidence to explore the innovation process while learning valuable science, engineering, technology, teamwork, and problem-solving skills,"
The Malta Robotics Olympiad is financed and organised by the Ministry for Education and Employment together with the support of various sponsors.
For more info and competition registrations, visit www.mromalta.com.