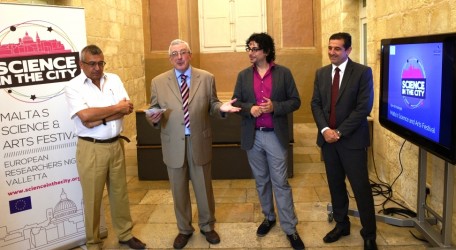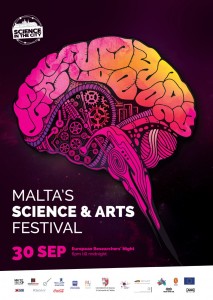 The wonders and woes of the brain will be the focus of the annual Science in the City – European Researcher's Night where the latest science and inspiring research on the human brain will be explained through interactive exhibitions, artworks, live experiments, music, theatre, and symposiums. The fifth edition of the science and arts festival will be held in Valletta on Friday 30th September from 6.00pm until midnight – participation is free of charge.
The Science in the City festival is part of European Researchers' Night and coincides with 300 other events held across Europe. It is supported by the European Commission's Research and Innovation Framework Programme Horizon 2020 (H2020, 2014–2020) by the Marie Skłodowska-Curie actions.
"Science in the House" will be hosted a day prior to the festival on 29th September by the Speaker Hon. Dr Angelo Farrugia, at which MPs and MEPs can meet Maltese researchers and talk about their science. The work of the new Malta Neuroscience Network, and contributions by Maltese Scientists and Physicians will feature in this audiovisual display in the Parliament Building.
The festival programme was presented today during a media conference at the Valletta Campus of the University of Malta. Those present were given a glimpse of the quality of the activities with a surprise performance by Moveo Dance Company. The contributors of the festival, including the consortium led by the University of Malta, the University's Research Trust (RIDT), the Malta Chamber of Scientists, various corporate partners, and the Parliamentary Secretary for Research, Innovation, Youth and Sport Hon. Chris Agius, attended the launch.
Speaking at the event's launch, Professor Alex Felice (University of Malta and Malta Chamber of Scientists) said: "the brain is captivating – both structurally and with its millions of cells that are found in each one of us. The behaviour, the memory, cognition of the mind form perhaps the biggest mystery of today's science. This is quite a big challenge. There are new research projects both in the European Union and North America that are trying to unravel this mystery. In Malta, we have set up the new Neuro-Science Network. We need to see how research can lead to the betterment of the human condition."
The Research Trust (RIDT) is supporting Science in the City for the fifth consecutive year. RIDT Chief Executive Wilfred Kenely said, "Science in the City serves as a platform to bring exciting research projects to the public. There will be an array of fascinating activities about the current research in the health and medical field, in particular the brain" RIDT actively seeks funds and support from private and corporate bodies, private individuals, and University alumni to expand the University's research studies.
The main festival area will span from City Entrance along Republic Street to St George's Square including other centrally located venues in Valletta. The exhibits will integrate science, knowledge and fun to enable visitors of all ages to learn through hands-on participation.
Project Manager Dr Edward Duca gave an outline of the full programme that reaches out to a wide range of audiences — families, youths, students, and adults.
St. George's Square will be transformed into a Brain Square featuring art installations, music and theatre, an exhibition, and a brain show hosted by Dorian Cassar with a series of talks by world leading neuroscientists and neurosurgeons. The talks will be conducted by Dr Neville Vassallo, Prof Mario Valentino and Dr Christian Zammit, Dr Charles Scerri, Prof Ludvig Zrinzo, and Prof Giuseppe Di Giovanni.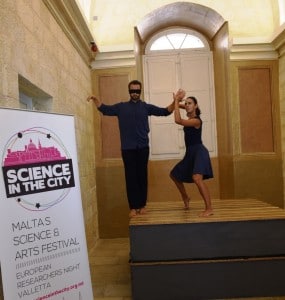 Andrew Schembri and Toni Gialanzé will lead Brainrave – a system that controls music and visuals with the brain. Mount Carmel Hospital will be showcasing the evolution of psychiatry exhibition and an art exhibition will be put up by the Richmond Foundation. While the Malta Association of Psychiatric Nurses invites the public to meet them for a chat.
Raphael Vella will be exhibiting Cortex, an art installation inspired by neuroscience and scientific comparative studies of different mammalian brains. Paul Curmi dance company is preparing a Maltese traditional dance with movements reflecting the disruption caused by Alzheimer's disease.
City Gate entrance will also be bursting with spectacular science fair, talks, exhibitions and meet the researchers, including an area dedicated to health and rare diseases (National Alliance for Rare Diseases Support Malta, Malta Biobank, Ministry of Health) and the mobile dental clinic run by the Malta Association of Dental Students and RIDT. A display of four anthropomorphic sculptures displaying the evolution of the nervous system will be set up by Liliana Fleri Soler. Moveo Dance Company will present "Trust Me", a moving piece performed blinded on an elevated platform. Other participants at City Gate include MCAST and IASSO labs, Coca-Cola, Wasteserv and Brain Game, and an interactive brain area.
Spazju Kreattiv St James Cavalier will be hosting science-fun activities for children and young teens. These include puppet shows in the cinema room at 6pm till 9pm coupled to Kids Dig Science, science and arts workshops in Studio A. At the Cinema, CineXjenza will present a film on Alzheimer's disease at 9.00pm, followed by a discussion with Prof. Charles Scerri. Malta Café Scientifique will bring their best science talks at the Music Room from 7.00pm to 11.00pm. Teatru Anon will be performing "I'm Still Here", one woman's battle with a life threatening condition. The performance will be held at the Theatre Room at 6.30pm, and repeated at 8.00pm and 9.30pm. Entrance tickets are at €5 each and can be booked from St James Cavalier Booking Office.
Pjazza Teatru Rjal will host an experimental performance of Funk Initiative's debut album, Cartographers, inspired by insights into the human mind by prominent neurologists, psychoanalysts, poets and artists from 7.30pm. Meet Gianluca Bezzina, Paul Torpiano, Shaun Abdilla, Christopher Tate, Luke Grech, Fabian Bonello, Daniel Buttigieg in between shows at Meet the Researchers at City Gate.
Along Ordinance Street, exhibitions, interactive experiments and activities will be led by NGOs, MCST and NSTF.
Republic Street will be taken over by buskers: young scientists from commerce, psychology, medicine, ICT, engineering, pharmacy and health science students. Over 20 stands will be full of brain scans, experiments, health checks and a pico-satelitte. While outside the Law Courts, the Science Stage will feature money, forces and explosions.
Another art installation, interactive games and experiments will be set up at Pjazza Regina, and at the National Library a series of science debates focusing on the facts of IVF; Euthanasia, Organ donation; overcoming mental illness will be led by student organisations GħSL and INSITE from 7.00pm.
Science in the City is recognized as a Festival by Europe for Festivals and Festivals for Europe (EFFE). It is supported by the Parliamentary Secretary for Research, Innovation, Youth & Sport, Jugs Malta, Studio 7, MEUSAC, MCST, Valletta Local Council, MCAST, PBS, Notte Bianca, Spazju Kreattiv, Pjazza Teatru Rjal, and General Soft drinks with Coca Cola.
The programme can be viewed on www.scienceinthecity.org.mt or follow the festival on Facebook for regular updates: www.facebook.com/ScienceInTheCityMalta.